Portillo's Combo Sandwich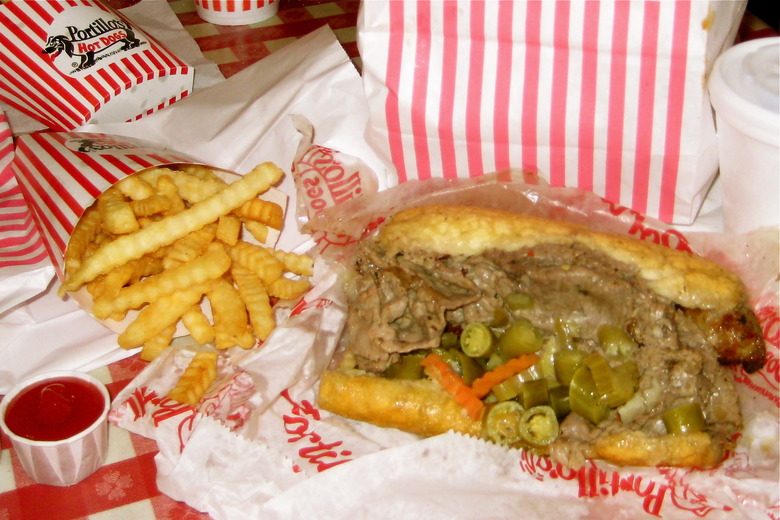 Portillo's Combo
Chicagoans get a bad reputation when it comes to food. Thanks to SNL's Super Fans, people think that every meal in the Windy City consists of deep-dish pizza, over-dressed hot dogs, and Polish sausage. That's patently false. You can combine (at most) two of those items into a meal. Eating all three is only permissible on Michael Jordan's birthday or when the Bears are in the Super Bowl.
While hot dogs may be seen as typical Chicago fare, there's actually another beloved sandwich that doesn't get much play outside of the Chicagoland area: the venerable Italian Beef. To outsiders, it appears to be similar to a French dip: hot slices of roast beef piled high on a crusty Italian roll (usually from Gonnella or Turano). If you're a real Chicagoan, you top it with either sweet or hot peppers (giardiniera to those in the know) and you order it dipped or "wet," so the whole damn thing is drowned in gravy before you lean over a side counter to enjoy your bounty.
The Italian Beef is an icon in Chicago and it definitely stands up on its own, but a long time ago in a galaxy far, far away (probably Schaumburg), somebody came up with a better version: The Combo. We're not talking about tiny cylindrical snacks here. We're talking an Italian Beef taken to the next level by adding an Italian sausage. It's matrimony at its finest. A power duo that beats out Grace and Sandberg, Mikita and Hull, and even McMahon and Payton. Each juicy bite is a dripping mess of beef and pork. It's truly a sandwich that's better than the sum of its parts.
You can find Combos all over Chicago, but if you're looking for the most consistent Combo in town, head over to your local Portillo's. Portillo's is the one chain that gets away with being a chain because it's so good. With 30 locations in the city and surrounding suburbs, not to mention two more inexplicably located in Southern California, Portillo's puts out a killer Combo – especially when you tack some beautiful golden crinkle-cut fries and a chocolate cake shake onto your order. So dust off your Bull's 3-Peat hat and order up a Combo next time you find yourself at Portillo's. It'll be your favorite heart attack ever.
More Sandwiches of the Week from Food Republic: