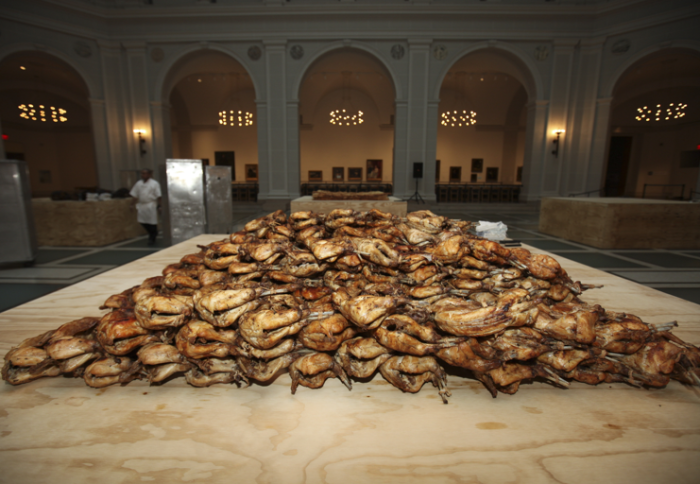 Food writer turned conceptual artist Jennifer Rubell creates whimsical culinary installations using food as an integral art medium. Whether it's padding a room with 1,600 cones of pink cotton candy, hanging 1,521 doughnuts in a grid formation at the perfect tilt or presenting guests with 2,ooo lbs. of BBQ ribs, Rubell's large-scale interactive installations are fascinating food art. The best part: guests are encouraged eat the art during the installation.
The New York-based artist, and daughter of acclaimed Miami art collectors Don and Mera Rubell, started off by catering her parents' annual Art Basel Miami Beach breakfast. From there, she began to put her provocative spin on catering at different arts museums and fairs, teaming up with Mario Batali at the Brooklyn Museum last year for an installation that included a lot of cooked meats and cheeses dripping from the ceiling. These installations examine social interaction around food within the art world, and have attracted celebrity guests from David Byrne to Chloe Sevigny to Larry Gagosian.
Rubell is back in Miami this week for the annual Basel throwdown, and what's sure to be a memorable series of breakfasts that will apparently involve a lot of yogurt. If you can't make the trip, this photo gallery will give you an idea of what you'll be missing.
Jennifer Rubell's annual breakfast installation, "Incubation," is taking place in Miami at the Rubell Family Collection starting Wednesday, November 30 from 9 am to 12 pm and will run every morning through Sunday, December 4.