In Season Right Now: Wild Mushrooms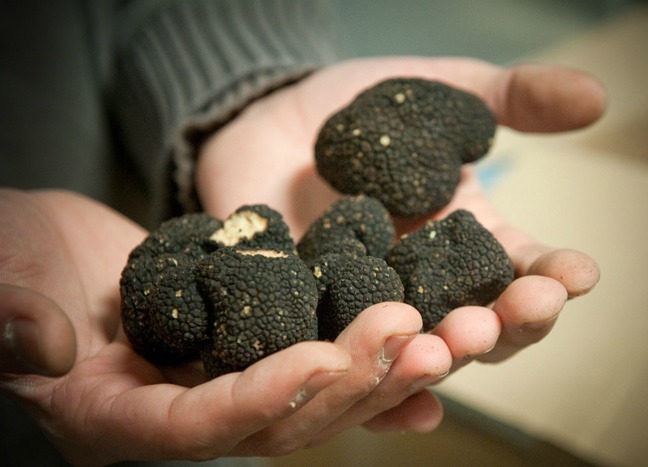 Hedgehog, fried chicken, cauliflower, canary, lobster. An odd menu, right? Well, not so weird, it turns out: these are all wild mushrooms available through D'Artagnan, the foie gras and truffle specialist and purveyor of other fine meats and mushrooms to restaurants around the country.
D'Artagnan's founder, Ariane Daguin, is something of a mushroom expert. She peels off their Latin names the way other people call out their favorite bands. Over a recent fungus-laced meal, that began with wild mushroom soup and ended with white truffle ice cream, she discussed her job as fungus hunter.
Why are November and December such big months for mushrooms?
In the Northern hemisphere, it's the end of the fall and in the Southern hemisphere, it's spring. So both seasons are good times for mushrooms. What's particularly exciting in the Northern hemisphere, especially at the end of November, is that the truffles are coming in.
How did truffles get to be so prized?
There are recipes from Escoffier where he is using 10 kilos of truffles and sometimes not even to eat—just as a decoration around the dish. So, there was a time when truffles were really plentiful. I wouldn't say it was like potatoes, but there were more. Now, as cities get larger and the size of the woods diminishes, there are less truffles.
At D'Artagnan, how do you find what mushrooms are in season?
We have a purchasing team that is looking at the whole world as a sourcing possibility. For example, I always thought that morels came at the start of spring (because I was raised in France). But the more east you go — Russia, Turkey — the earlier they come. And we do that with every wild mushroom. Going back to truffles, there used to be none in the Southern hemisphere. Now, there are growers in Australia. So, we can have black winter truffles in the middle of the summer.
Do mushrooms have terroir, as in taste different depending on where they're from?
Yes. In my part of France, we are big fans of the cep. In Italian, they call it porcini; the Latin is boletus edulis. Depending on where it grows, it could be very different in taste. Meaning altitude, quality of soil and weather. For example, you have cep growing under pine trees in Northern California that will be very mild. Then, you have the cep that grows deep in the oak woods of Gascony: they will be more pungent.
What are some of your favorites in season now?
Right now, we have South African porcini, some domestic chanterelles left, chicken of the woods from Oregon, hedgehog from Pennsylvania, matsutake — a very aromatic mushroom from Japan — and of course the truffles. We are in the full white season now and will get the true black truffles soon.
What is the most unusual mushroom you've come across?
The one I had no idea existed all these years since I immigrated to the Unites States is the lobster mushroom. I'd never seen that in my region in France. It's a very frightening mushroom, almost neon red. It's the type of mushroom where, in my youth or before I got into this business, I would swear it's poisonous. In general, when mushrooms are bright red, it's not a good sign.
What are some of your foraging tips?
Do not forage any mushrooms that you don't know intimately. It's extremely dangerous. In Europe, you can actually pick mushrooms anywhere you want and then go to a pharmacy. It's the job of the pharmacist to tell you what you have harvested is edible. We don't have that here. So, I would advise you first go with someone who knows them. Once you know the three or four kinds that grow in your region, stick to those. Even me, as an expert, there are only three or four mushrooms I am comfortable picking.
Ever done magic mushrooms?
Now, wouldn't that go against what I just said about avoiding poisonous mushrooms?
---