Grilled Cheese & Tomato Soup 4Eva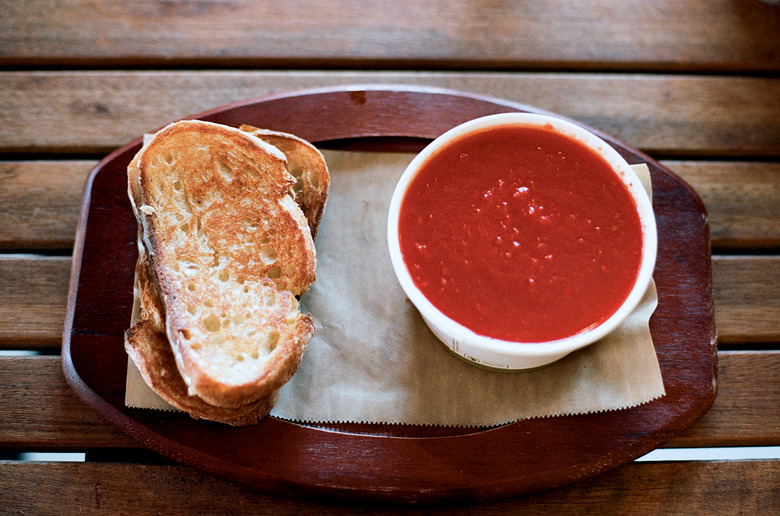 Study the photo to your right. Now — without thinking — what's the first thing that comes to mind? It's "dipping that sandwich into that soup and taking a big melty, crispy, creamy tomato-ey bite," isn't it? That was also kind of a rhetorical question. Unless you're part of the 1% who dislikes grilled cheese or tomato soup, or part of the .1% who dislikes both, I can now mathematically conclude that grilled cheese + tomato soup = the greatest soup and sandwich combination ever.
I realize this is not news. Canned tomato soup has been an America best-seller for about a hundred years. But there's something special about the fact that while many Americans couldn't locate certain states on a map (which is fine, the square ones always throw me, too), they still know which soup goes with a grilled cheese sandwich, and which sandwich goes with tomato soup. Chefs throughout the country have harnessed that devotion in the past couple of decades, turning this icon of simplicity and comfort into haute cuisine.
Thomas Keller's Bouchon Bakery is an oft-referenced example of the upscale grilled cheese. His signature combination of highly meltable fontina and sharp Gruyère begs for the perfect balance of acid that its accompanying tomato soup brings to the table. Others throw goat, gouda, Swiss or truffle cheese into the mix. All are welcome to take a dip that somehow manages to put the roast beef sandwich to shame.
One new concept I recently discovered is the tomato soup grilled cheese sandwich. Yes, the soup is built right in. Well, the soup isn't exactly built right in. Simply combine equal parts cream cheese, sundried tomato paste, regular tomato paste and a little salt for that too-much-sodium flavor we love so much, and slather on both slices of bread before grilling.
Not your cup of...soup? Here's the easiest recipe, ever: Roast 2 large halved tomatoes, 1/2 small onion, 1 clove of garlic and 1 carrot in a 375F oven with some olive oil and a little salt for about 45 minutes or until nice and soft. Slip skins off tomatoes and drop everything in 3 cups of boiling chicken stock. Simmer for 15 minutes, then allow to cool and have at it with an immersion blender until nice and smooth. If you recall, two slices of American on white bread lightly griddled in plenty of butter completes that portrait of comfort food for lunch. And I bet the deli down the street will add a few slices of bacon on the one you ordered for a nominal fee.