5 Reasons To Drink Chilean Wine Right Now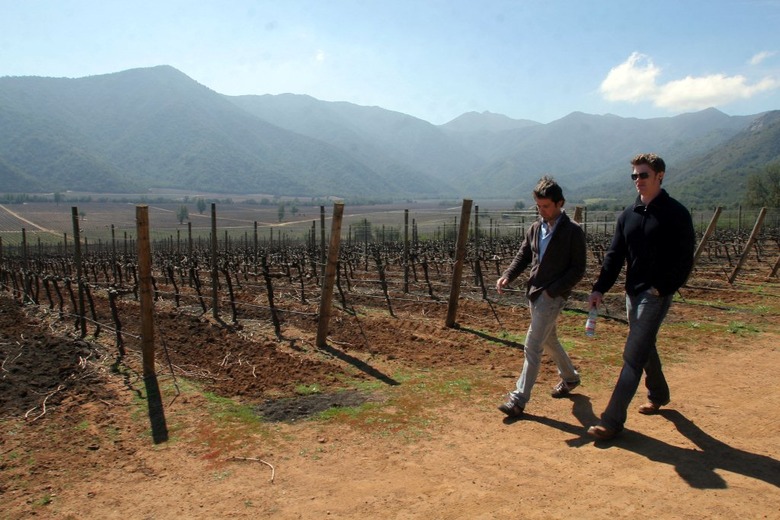 In February of 2010, a devastating earthquake hit Chile right around the start of the grape harvest there. In wine-producing regions, the media described "rivers of wine" flowing – tanks and barrels that had been smashed or overturned spilled their contents out into the streets. The smell permeated the air. It took some time for the country and, specifically, its wine industry to recover. Then, eight months later, 33 Chilean miners were freed after being trapped underground for 68 days. And how did the rest of the world respond? For one, they started drinking more Chilean wine.
The brief spike in Chilean wine sales after the miners were liberated didn't do much to affect the industry as a whole. But a year and nine months after the earthquake, the face of Chilean wine has changed. Long associated with cheap and cheerful wines, the country has been showing off its more premium bottlings lately. Not that you still can't find a deal from there. Only now, value is just one of the reasons to drink Chilean.
Here are five more, and bottles to go with them:

Hot, hot Carménère
The grape of the moment in Chile is Carménère. Originally a Bordeaux varietal that disappeared from the region, it's become iconic in the South American country. All fine and dandy, but lovers of the grape are hoping it won't fall prey to the "Malbec effect"—becoming a ubiquitous brand rather than a simple varietal, prompting producers to saturate the category. For now, it's still a wine most people have yet to discover – often gamy and herbaceous, with dark fruit flavors, it's often cited as the ideal pairing for curry and other spicy foods. Try: Plummy, peppery Errazuriz 2009 Aconcagua Valley Carménère ($16)
The ladies
Chile trails only the U.S. for number of women winemakers, with some 35% of the country's wineries led by ladies. It's not that women make better wine – or even different wine – from men. But the roughly 1:3 ratio of women to men in the business does reflect a certain progressiveness and, yes, that can extend to the wines themselves. One of the most famous women in Chilean wine is Alexandra Marnier-Lapostolle, heiress to the Grand Marnier fortune. She leaves the winemaking at her French-influenced winery to Andrea León, another woman in the industry. Try: Bordeaux-style Lapostolle 2009 Cabernet Sauvignon "Cuvée Alexandre" ($25)
Going green
The wine industry is hardly an eco-friendly one. But a number of wineries around the world have invested their profits and efforts into reducing their overall environmental impact. In Chile, one producer partnered with Yellow+Blue ("makes green", get it?) purveyor of organic wines in environmentally friendly TetraPak. These cartons are lighter and cheaper to transport than glass, and result in less waste. The producers providing wine to Yellw+Blue remain nameless, but often go for $15-$20 per bottle when sold under their own brand. Try: Aromatic, zingy Yellow+Blue Sauvignon Blanc, from the Central Valley ($12 for 1L)
Defining terroir
Chile has been making wine since the conquistadors arrived in the 16th century, but the industry as we know it has only existed for a few decades. In that time, Chile got a reputation for "international style" wines – in other words, wines that could have been made anywhere. In recent years, however, several producers have started going a different route: trying to express the country's terroir. One of these is Clos Ouvert, in Maule, led by two Frenchmen. They work with, among other varietals, the País grape, the country's oldest variety, which produces a rustic, fruit-forward wine and, arguably, one of the purest expressions of the region's terroir. Try: Spicy, bright Clos Ouvert 2008 Huaso Cepage País ($28)
It's a pleasure, PX
Pedro Ximenez – aka, good ol' PX – is a white Spanish grape that Chileans have long used to make Pisco. As it turns out, it makes pretty darn good table wine, too: fresh and flinty, with honeyed notes. So, what might make this wine even more exciting? How about ordering it by the keg. The Gotham Project, a wine-by-the-keg operation that provides easy-drinking wines on tap for locavoric, sustainably-minded restaurants around New York and beyond, has turned PX into a keg party. Find it at a forward-thinking wine bar or restaurant near you. Try: Lush, yet mineral, Gotham Project's 2010 Pedro Ximenez, from the Elqui Valley.
---
Read more about the world of wine on Food Republic: