In Brooklyn, Soda Works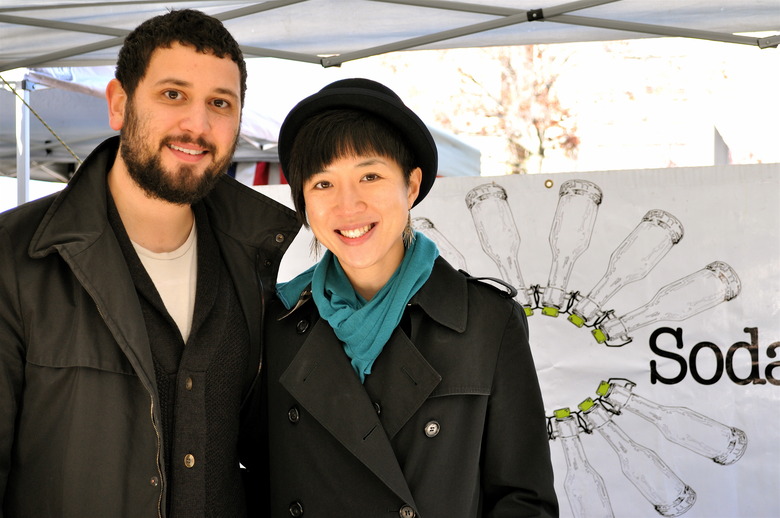 During Prohibition, a number of American bartenders found themselves jobless and, rather than leave the country to work in Europe or Cuba, like many of their colleagues did, they chose to stay in the U.S. and become soda jerks. It's a fitting preamble to the story of Brooklyn Soda Works, a company borne rather accidentally out of the search for a perfect cocktail.
Caroline Mak and Antonio Ramos, partners in business as well as in life, had wanted to make the perfect Dark 'n' Stormy, but couldn't find a ginger beer with the right kick. So, they ended up making one. A few mixer recipes later and Brooklyn Soda Works was created. It's no surprise that mixology should appeal to the pair: he's a chemist and she's an artist. Recipe development, she says, has crossover from both their lines of work.
"We both do a lot of investigating into how things are made," says Mak. "We had been making things for years. It comes down to that: ever since we were teenagers, if we wanted something, we made it. There's a huge amount of research involved in art, as in science."
Their most popular flavors include Cucumber, Lime and Sea Salt; Grapefruit, Jalapeño and Honey and Strawberry, Hops and Pink Peppercorn. That last one was inspired by a trip through Belgium, where Ramos did a lot of biking. He would ride past breweries and strawberries fields and when the aromas mixed together, the combination was divine.
"[The company] has definitely stemmed from an appreciation of what bartenders and winemakers and brewers are doing," says Mak. "Our love of this is definitely on the alcoholic side of things."
Mak is talking, of course, of the sorts of bartenders who press their own fresh fruit for cocktails rather than using canned or boxed juices. Likewise, Brooklyn Soda Works peddles fizzy drinks made using fresh fruits and herbs. It's not "soda" as we know it, which is typically made by adding carbonated water to flavored syrup. Logistically, it means that Mak and Ramos can't bottle their sodas for distribution.
"Perishability is a huge issue," says Mak. "We work with fresh fruit and fresh juices, so we're looking at a shelf life of two weeks. And the products have to be refrigerated. You're looking at the same difficulties as flash-pasteurized juice or milk."
The lack of bottling means that the pair must distribute in large formats and, so far, only locally. Their soda is available on tap at several New York establishments, like Blue Hill and Beer Table. At the Brooklyn Flea, their first home, you can buy their soda by the glass. If you bring a growler or sealable bottle, they will happily fill it up for you.
"It's hard to persuade a restaurant or bar owner to take a beer off tap and put in a non-alcoholic beverage," Mak admits, although she adds that the spread of wine on tap has helped. "The benefits of kegs are that you can control the freshness much easier and you don't have to deal with the waste of 24 glass bottles every week. We're slowly trying to convert people."
If you aren't converted by the smell of the Belgian countryside in the summer, then you might be by a steaming cup of something nourishing. As the weather cools, Brooklyn Soda Works is gearing up to launch its new hot-beverage program. Mak, who is from Hong Kong, is experimenting with Hong Kong-style milk tea. You can also expect spiced apple cider and sweet almond milk – both of which sound excellent for the spiking.
Recipe: Brooklyn Soda Works Warmed Spiced Ginger Tea
---