Tailgate Toe-To-Toe: Steelers Vs. Chiefs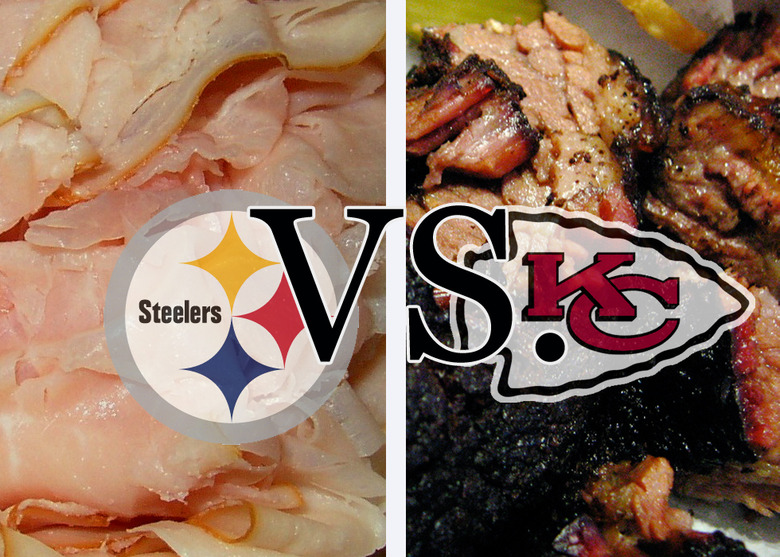 NFL Image
Tailgate Toe-To-Toe picks a weekly NFL game and analyzes the matchup—on the field and in the parking lot.
Chipped ham doesn't sound so appetizing – it's a processed luncheon meat, formed into a loaf, and sliced razor thin and sometimes mixed with barbecue sauce before serving on a sandwich. Call me ig'nant, but it sounds a lot like Spam, which is exactly what led to a boom in chipped ham sales after World War II, as soldiers who had grown accustomed to the canned meat enjoyed the familiar taste back on US soil. The slicing process is shamelessly labeled "Pittsburgh Style," proudly declaring the only city brave enough to take credit for such an un-delicate delicacy.
Steelers fans are a loyal crop of black-and-yellow terrible-towel waving lunatics, eager to add to their collection six Super Bowl championship rings. Fortunately for the likes of the Mobile Tailgating Unit – all Pittsburgh teams (and they support all of them) are clad in the same colors, so that their ambulance doesn't have to be repainted from season to season. Although these fans feast on surf and turf prior to kickoff, other fans tailgate with copious amounts of pierogies, kielbasa and sauerkraut, sausage and peppers, all piled onto Celone's buns. State pride is displayed by swigging Yuengling or Rolling Rock...and breaking the seal as late into the game as possible.
There are three common places you can find burnt ends; nude beaches, a Phil Lesh and Friends concert, and Kansas City, charred up from the point half of a smoked brisket – the piece with the highest fat content, and thus the most flavor. Now, here at T4 we talk a lot about BBQ, but just like channels on a cable box, each city does it a little differently. These unique variations contribute to the overall genre that allows men to hit the grills with a beer in hand and serve up raw animal flesh. And Kansas City deserves to be in the conversation of BBQ hot spots.
The Kansas City Ambassadors are good dudes. Composed of former Chiefs players, the organization was formed in 1989 by athletes, including hall of famer Bobby Bell, that volunteered to help the team off the field as well. They serve to better the community as a whole by raising money for scholarship programs, charities, and honoring local teachers for their leadership in the classroom. The Ambassadors tent is located right next to Arrowhead Stadium and they're always serving authentic, regional cook-out fare.
What can you say about the Steelers other than you have this gut feeling you're going to be seeing them in January – most likely in a rematch with the Green Bay Packers. Is it the 1970's steel curtain? No. Still, the Troy Polamalu anchored Defense only gives up a total of 280 yards to their opponents. It's not like Big Ben is piling on gaudy stats– Pitt is grinding out victories against playoff bound teams like New England and Cincinnati. Rashard Mendenhall looks strong this season, Lamar Woodley and James Harrison look mean, and Mike Wallace looks like the fastest NFL player in pads. With 2 losses already to their division rivals in Baltimore, every remaining game becomes a must-win.
Kansas City is down a starting Quarterback, Running Back and Safety for the season. Todd Haley must be baffled by names like Tyler Palko and Jackie Battle headlining his depth chart. The one positive I saw while watching Monday Night Football vs. the Patriots was the curious case of Wes Welker, practically non-existent and smothered by cornerback, not Killers front man, Brandon Flowers. At 4-6 and truly hampered by injury, the Chiefs can rest assured that they'll only be playing 16 games this season – but wouldn't it be fun to play spoiler against the Steelers? At Arrowhead?
Still going with the smart money – but hoping this game remains a 1-possesion game for the majority of the clock. GAME PICK: Steelers 28, Chiefs 20
Is there ever any reason to turn down seconds of burnt ends in favor of chipped ham? No. No there isn't. FOOD PICK: Burnt Ends 21, Chipped Ham 3
---
More tailgating on Food Republic.