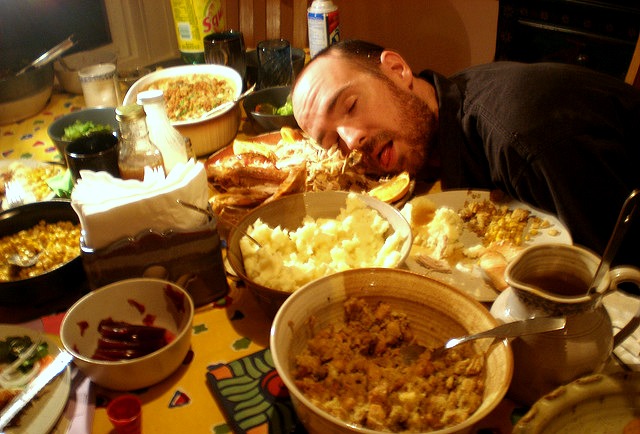 Make sure to check out all of our Thanksgiving coverage, including T-Day Troubleshooting and a holiday potluck with our friends on the Internet.
This is important from the top: The old turkey and red wine pairing is a complete snore. Literally. Anyone who has had this combo will attest that it's more effective than Ambien with a warm-milk chaser to put you in a serious post-meal coma.
But Thanksgiving dinner doesn't necessarily have to be followed by a nap. You can keep the party going by pairing your turkey-centric feast with lively wines and other less typical potables. You have the entire long weekend to sleep it off after all.
It's a good idea to have several options going at the Thanksgiving table. Your mother-in-law might only drink white, your Uncle Larry is really into his IPAs. You may not end up pleasing everyone, but you should certainly try to.
In the white corner
Unusual white: Chardonnay is a common pairing for turkey as it can stand up to the darker meat. But if you're looking to liven things up this year, opt for a lush Soave. This grape variety has a reputation for being mild and bland. But there are plenty of examples of the wine that are rich and dense. Try:Rocca Sveva Soave Classico 2008, a creamy, nutty wine that still manages to have minerality and bright citrus notes. ($15)
Orange wine: Wine geeks everywhere are getting into orange wines. These are whites that have had prolonged contact with the grape skins and were raised in oak or clay amphorae. Controlled oxidation results in a coppery color and nutty, funky flavors and aromas. Try: Channing Daughters Ramato Pinot Grigio 2010, from Long Island, a honeyed, baked-fruit example of this style. ($20)
Champagne: Surely you would prefer to save this for next month – say, the 31st? Oh, don't be such a square. Bubbly is good for anytime of year. And while there are plenty of great sparkling wines from beyond the region of Champagne, why not make a statement with the real stuff? Try: Pierre Brigandat Brut NV, a 100% Pinot Noir Champagne made by a small, organic grower-producer. It's bright and zingy, with a touch of bread. ($20)
Mix things up
Bourbon: What? Whiskey with dinner? Admittedly, pairing food with hard liquor is tricky, and hotly debated among experts. But if your guests are up for it, the brownest of the brown liquors is a perfect fall drink to pair with the heavy, oftentimes sweet-savory sides that go with turkey. Serve it in a simple cocktail, like an Old Fashioned, or even just over ice with a soda top. Try: a complex, spicy bourbon like Woodford Reserve. ($30)
Punch: Isn't punch just the perfect drink to serve at any party? Use a big block of ice instead of cubes to chill it so that it dilutes at a measured pace, as in over the course of the evening. This way, Cousin Olivia's fifth glass is weaker than her first – everybody wins! A number of punch recipes are appropriate for the season, like a Wassail or spiced rum punch. Get more punch ideas in David Wondrich's aptly titled book, Punch. ($24)
Aperitivo: Whether you're serving wine or not, you can never go wrong putting it in your cocktail. Simple aperitif-style drinks can be refreshing and light, especially when they contain no actual hard booze. Vermouth, amaro, and fortified wine-based cocktails (think of the Sherry Cobbler) can be a great match for the traditional T-Day meal. Try: A Diplomat (sweet and dry vermouths with a dash of Maraschino and Angostura bitters) or a simple Campari and soda. (Dolin vermouths $15; Campari $22)
Go wild
Cider: As ciders get more refined in this country, more people are treating them like table wines. A dry sparkling cider can be made much like Champagne, boasting great acidity and minerality, making it ideal to pair with food. Try: Farnum Hill Extra Dry, from New Hampshire, made with heirloom apples and no "dosage" (that's Champagne talk for added sugar). It boasts firm tannins and a pleasant earthiness. ($17)
Beer: Turkey plus the parade of carbs that grace your Thanksgiving table certainly aren't light fare. So, you might think beer is too heavy to pair with them. Hogwash. Beer styles are as diverse as snowflakes and you can certainly opt for one with a lighter body and good acidity to go with the hearty holiday meal. Try: A nutty brown or pumpkin ale, or even a black lager, like malty Köstritzer Schwarzbier, less than 5% ABV. ($8-$12 for six)
Sake: Go for the ultimate wildcard this Thanksgiving – decidedly un-American sake. Japanese rice wine is increasingly being paired with non-Japanese foods. While many sakes are crisp and citrusy, a number are lush and creamy, boasting such seasonally appropriate aromas as pear and plum, making them a great match for roast turkey. Try: Ozeki Hakono Junmai, redolent of poached pears, and sold in an eco-friendly carton. ($12)
And, if you must drink red
Beaujolais: November is Beaujolais Nouveau month, so it makes sense that the wines from this French region would become a Thanksgiving tradition. But don't limit yourself to 'Nouveau.' It's just one of a dozen appellations from Beaujolais, including 10 crus, which range from simple and fruity to more complex, aromatic and mineral. Try: Marcel Lapierre Raisins Gaulois 2010, an organically grown, naturally vinified wine with great acidity. ($12)
Oregon Pinot Noir: OK, so it doesn't have to be from Oregon, but why wouldn't you opt for one of the state's elegant, affordable and Old World-style Pinot Noirs? Light-bodied and food-friendly as these wines tend to be, they won't weigh you down as you overdose on tryptophan. Try: Montinore Pinot Noir 2009 from the Willamette Valley, filled with fruits of the forest flavors, with a long, dry finish. ($16)
Lambrusco: Forget the sickly-sweet sparkling red you have long associated with Lambrusco. The category has grown up since the fizzy grape juice you swilled back in the day. Dry and off-dry bottlings manage to be fruit-forward without overwhelming the more delicate cuts of meat. Try: Lambrusco dell'Emilia Camillo Donati 2010, a traditional dry sparkling wine made much like Champagne, albeit deep red. ($20)