May We Suggest A Menu: Holiday Meat Sweat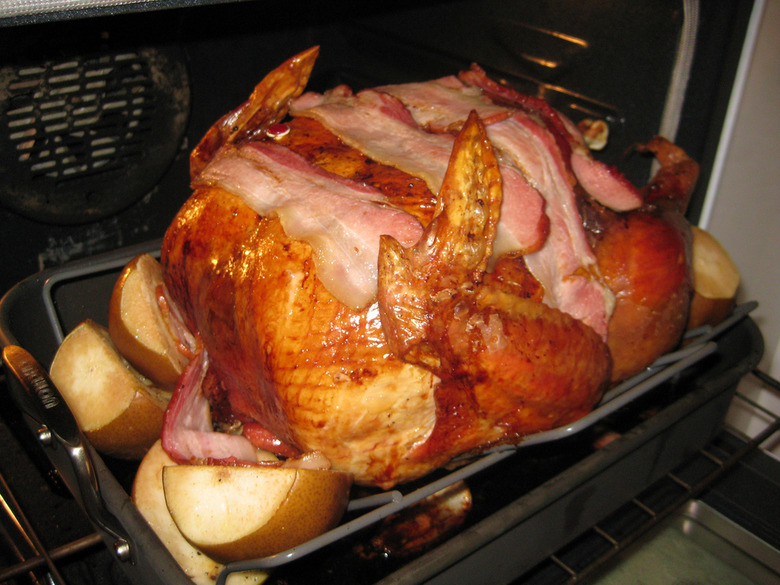 the meat sweats menu
We're going all out for the holidays and indulging to the max. If you feel like joining us, check out our Meat Sweats Holiday Menu. You may want to shed your wool knits for this one. Truth be told, we're not sure if the meat sweats are real or just a myth, so test it out yourself with this four-course meat-heavy menu.
We're giving the turkey a break and not including it on the menu. Yes, we have a picture of a turkey, however it IS wrapped in bacon.
Start with some Spicy Sausage Stuffed Mushrooms (the perfect combination of fungi, meat and cheese), then work your way into a Cabernet Braised Lamb Shoulder — earthy lamb served with gnocchi and a poached egg, who could say no to that?
We're making sure you still get your serving of vegetables, but vegetables taste much better when enhanced with meaty flavor, so help yourself to a side of Pancetta Roasted Brussel Sprouts.
And now, for the pièce de resistance, dessert! Yes, a meat dessert. Bacon becomes the perfect dessert meat with our Spicy Candied Bacon Recipe. Take some liberty with this one. Although this candied bacon can be enjoyed on its own, it also makes a great topping for anything from ice cream to pie.