Burger Deluxe's Bloody Mary Burger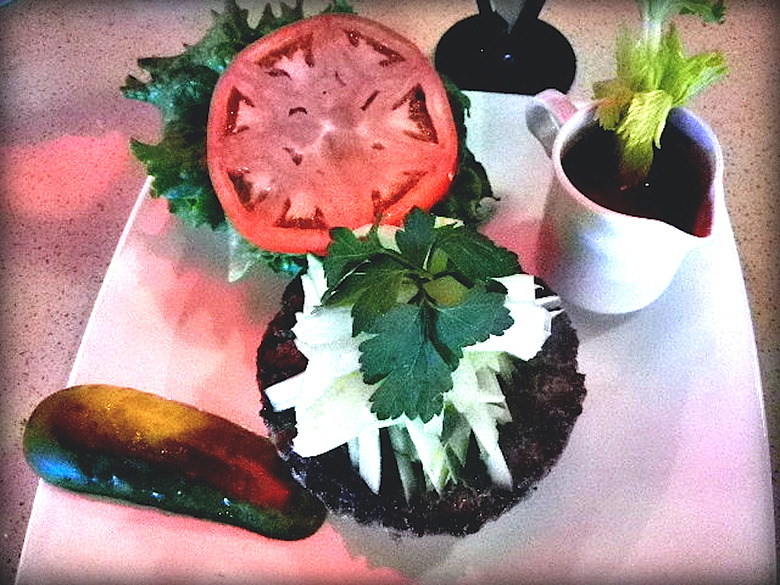 Burger Deluxe's Bloody Mary Burger
The Bloody Mary is the drink to be: on Halloween I saw a girl dressed up as a Bloody Mary (dressed all in red with a celery stalk tied to her head), and now I've come across a burger dressed as a Bloody Mary from Burger Deluxe in Wayne, New Jersey. Tough call, but I think the burger might be the winner.
There's no reason why food and beverage should remain separate — they're both going to the same place in the end; and as a Bloody Mary is a savory drink, it compliments a meaty burger quite well, especially at brunchtime.
Wayne, New Jersey is a small township about fifteen miles from midtown Manhattan, and Burger Deluxe has a retro diner feel, but there's nothing small-town or old-fashioned about the Bloody Mary Burger. The meat comes from respected butcher Pat LaFrieda and is decorated with julienned cucumber, diced celery, celery salt and parsley, plus tomato, lettuce and a pickle, with a (non-alcoholic) Bloody Mary sauce served on the side.
The Bloody Mary sauce is made with that zesty combination of tomato juice, lemon, Worcestershire sauce, Tabasco, and horseradish, sans vodka. Make sure to douse your burger in it.
---
More Burgers of the Week from Food Republic: