A Busy Bento Box At NYC's Soma By Nature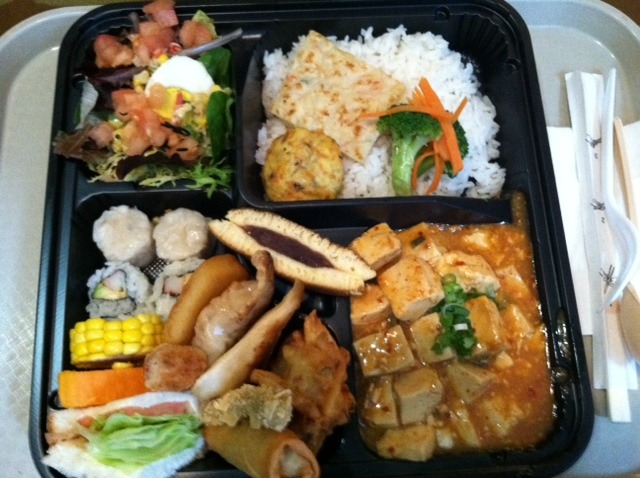 soma by nature's lunchbox
Much has been said about how the culinary world has been shrinking; how you can taste so many international cuisines in one square block in cosmopolitan cities. But what about partaking in a large swath of the global buffet in one lunch box?
That's right, you can find just that at NYC's Soma By Nature, a non-descript, quasi-Korean eatery south of the Brooklyn Bridge in Manhattan, which manages to cram Spanish, Mexican, Japanese, Korean, American, Chinese, and French fare into its Soma lunch box—all for $12.95 (give or take a dollar depending on your entrée choice).
Here's what you might get:
BiBimBap Burrito
Quiche Lorraine
Parmesan Cheese Quesadilla
Soy-glazed potato
Nacho crunch string bean
Corn on the cob
Vegetable tempura
Tuna fish sandwich
California Roll
Panned tofu
Shumai
Salad
Vegetable pancake
Tuna Crunch
Polenta
Rice
A main entrée (most people order the Bo Go Bi, a Korean marinated beef dish)
This incredibly satisfying, mostly delicious, smorgasbord of foods is the brainchild of Soma owner, Jaeseung Jang, a Korean native who went to NYU and studied at the French Culinary Institute. Jang opened Soma in 2008, with the hope that he could introduce Americans to Korean cuisine in a fast-food style. The lunch box is a condensed version of the traditional Korean meal, banchan, which includes rice, soup, a main entrée, and many small dishes. Let's just say tapas has nothing on these guys: Jang notes that past monarchs of Korea might choose from 60 to 80 small dishes in their Banchan.
Jang doesn't hog credit for his eclectic box — he says that it has been an evolution, with his staff (indeed, his Latin American cooks have had a clear influence) and patrons providing plenty of input. Although Jang appreciates that the wild diversity is pretty funny (he's got a mini tuna fish sandwich in there!), what he's really going for is "involvement" from his public.
And so he's not joking when he recommends that a guest should blend the Soma dishes together, in much the same way that one would with bimbimbap.
Which is why he recommends that I dip my California roll into the ma po tofu sauce.
What?
"Yeah!" he says. "That's the beauty of it."
OK, so I try that. I'm not going to say it's the best thing I've ever had. Or that it even makes sense. But it certainly helps tear down my preconceived notions of what goes where. It's a conceptual leap of faith that I can appreciate. I try the other roll. It's really kind of good, in a weird way.
I poke around at the box, and find myself dipping the quesadilla in the sauce.
"Beautiful!" Jang says excitedly, seeing that I'm getting the hang of it.
But you can eat the box any way you want. And there are plenty other dishes to choose from at Soma by Nature.
Still, the box is truly a marvel. Jang says that he's learned that most people prefer vegetarian ingredients that are fried. But, recently, he had a line cook from Le Bernardin try the Soma box. That cook's verdict? That the best thing in the box was the most simple: a boiled sweet potato. Jang is now considering introducing more similarly non-fried dishes. Yes, it keeps evolving, so if you come in, don't expect it to be exactly the same the next day.
And for dessert, there's a nice two-bite size black bean pancake. I look at it. I look at the spicy ma po tofu sauce. I can't help asking if Jang really wants me to dip it in there.
"No!" he barks. "Of course, not."
Thank goodness, there is indeed reason behind this delicious culinary tour-de-force.