May We Suggest A Menu: Tailgating Dinner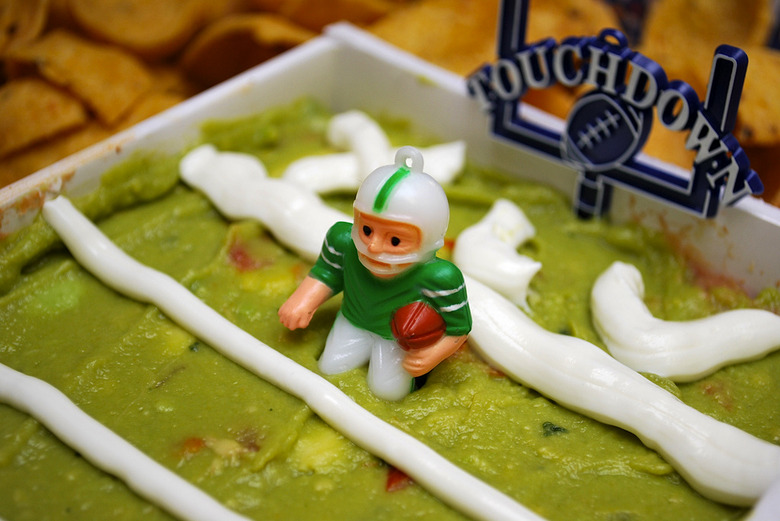 tailgating dinner menu
You could be eating in a toasty house or a freezing cold parking lot, but this menu is sure to keep football-food lovers satisfied and nicely thawed through the night. Even that friend/family member/significant other who hates football will be into homemade tortilla chips or Coke-braised ribs. Show off your culinary skills along with your preternatual knowledge of everyone else's fantasy team with these deceivingly easy recipes.
The cooler
Beer. Obviously. We recommend these 5 Southern beers, or any of these 14 tropical ones. Keep 'em nice and cold, because it's about to heat up.
The starting line
Put out some of this chile con queso for a simple, yet classic Tex-Mex dip, and serve with homemade tortilla chips or broccoli florets. These sriracha-honey wings will inevitably get your food-loving friends excited — the recipe is a twist on a tailgate classic, giving extra flavor to the wings. Plus, who doesn't love Sriracha?
The sidelines
Curried potato salad is an adaptation of the common mayo-based recipe, with enough flavors and spices to serve as a main dish for any vegetarians present. If you're not inviting vegetarians, then it can be an indulgent side. This coleslaw will give great textural contrast to the rest of the dishes. Crispy, tangy, and made in two steps: it's nefariously easy. Need something green? And bacon-ey? Pancetta roasted brussels sprouts should satisfy both cravings PDQ.
Now, for the meat
These barbeque ribs, sweetened with a cola sauce will be the highlight of the meal. It will be a chance to get your grill on, and give them a nice char. Tender, sweet, savory — OMG, cue salivary drool. Meat you can eat with a spoon? Yes, it exists. And there's beer involved. Make an enormous batch of Beefalo Milk Stout Beer Chili and show those folks what happens when sportsmanship meats craftsmanship.
Even if your team is losing by a country mile, you can rest soundly knowing they'd be proud of your tailgating efforts.