Japan's Great Carb Gift To Man: Yakisoba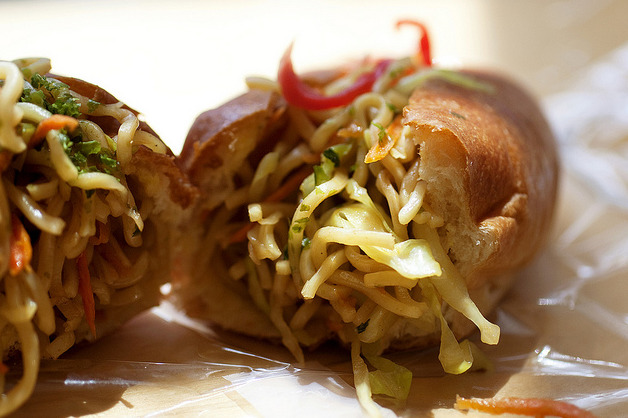 Since we're devoting this week to all things Thanksgiving, this sandwich comes as a (much needed) break from the bird.
The Japanese are credited with inventing some of the greatest wonders of the culinary world: sushi, sake and ramen (the world's greatest noodle soup—sorry chicken). But have you heard of the Yakisoba sandwich? If not, please keep reading. Unless you are hungry. You've been warned.
This starch-on-starch wonder is a carb-lovers dream. It starts with a squishy hot dog bun stuffed with soba noodles fried in soy sauce and topped with Japanese horseradish called usutā sōsu. It is then topped with pickled ginger, cooked savoy cabbage and bonito flakes. The cabbage adds a nice crunch, and surprisingly, there is no sog-factor.
Although the double starch may scare you a little at first, fear not, the Japanese are constantly inventing things to make our lives easier. This sandwich is an easy, portable, way to eat noodles on the go. And mess-free. No more dripping, slurping and ending up with noodle stains on your shirt, just easy, breezy mouthfuls of noodle goodness.
If a trip to Tokyo is not in the cards for you, try your local Japanese grocery store or yakatori spot. If you live in New York City, hit up Sunrise Mart or Village Yokocho for a quick fix.
---
More Sandwiches of the Week from Food Republic: