Winery Visit: Caparone Winery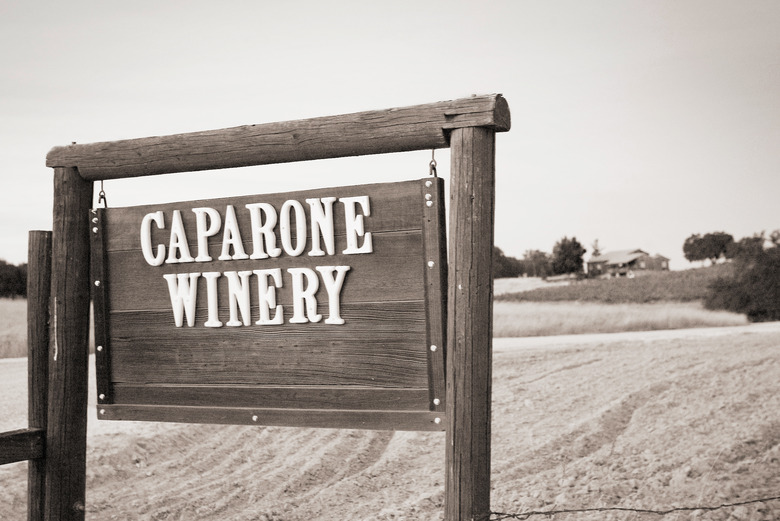 This unpretentious, family-run winery a few miles northwest of Paso Robles is not well known. That's because Dave Caparone and son, Marc, haven't spent a dime on advertising — or on a giant, impressive Citizen Kane-style gate. Inside, you won't find a hyper-modern tasting room with stylish, branded, Riedel stemware. You won't find a staff of young men and women in black t-shirts bearing the logo. You won't even find a gift shop — no artisanal local honeys, no books, not even a wine key.
What you will find once you park in front of the metal warehouse is a tiny sign on the door saying "Tasting Room Open 11:00-5:00." Don't be intimidated, even if yours is the only car there. Go inside where you will enter right behind the "bar" — which consists of a long board over a few barrels and will be greeted by a friendly Caparone, most likely Marc. Right away, you'll see that the tasting room is also the entire operation — barrels, fermenters, cases. This is where they make, bottle and store the wine.
And what fantastic wine it is! They only make reds, specializing in the Italian varietals — aglianico, sangiovese, and nebbiolo. In fact, Caparone was the first in America to grow Aglianico. These varietals plus Zinfandel are estate grown. (They use grapes from nearby vineyards for their cabernet and merlot.) The wines are not the hyper-oaked, heavy, fruit bombs that typify the California style. Caparone wines are done in a more time-consuming old world style, with as little processing as possible. They are not fined or filtered. They are barrel-aged for several years and then bottle aged for more. The resulting full-bodied wines are complex, earthy, and food-friendly. The alcohol content is decidedly light for California reds, weighing in at between 13 and 13.4 percent abv.
All six styles are great to drink now, but they'll continue to develop in the bottle for many years. And at the jaw-droppingly reasonable price of $14 a bottle (less, for six or more) you'll want to buy enough to do both. (That low overhead I explained earlier really has its benefits.)
If you won't be making it to Paso Robles any time soon, you can order through their website. Or you can try the wines at Grant Achatz' Next restaurant in Chicago, though I think he charges just a touch more than $14 a bottle.
2280 San Marcos Road, Paso Robles, CA 93446-5322, 805-467-3827, caparone.com
---
More ways to drink better on Food Republic: