Big Weekend: Barbados Food & Wine Fest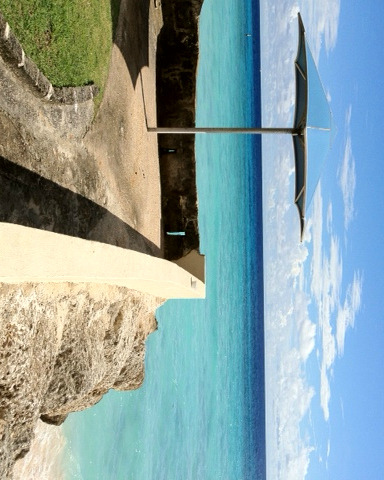 It was a big food festival weekend, with the Riviera Nayarit Festival Gourmet also taking place in Mexico.
The island of Barbados is a mere 166 square miles, yet dotting these winding roads are more than 1,500 rum shops. This fact alone makes it a must-visit in my book. But then there is an annual food festival to make things really interesting. Enter the 2nd annual Barbados Food & Wine and Rum Festival, a four-day event where attendees have the opportunity to get up-close and personal with celebrity chefs, feast on local Bajan cuisine, tour rum distilleries and drink more rum in an airport hangar. I was one of several journalists invited to attend this sold out event. Here's a recap.
Opening Act
Book signings and opening ceremonies were hosted at the brand spanking new Limegrove Lifestyle Center, an outdoor mall meets al fresco dining and gourmet eats facility in Holetown located on the West Coast of the island. After an evening of rum punch, local Barbadian inspired hors d'oeuvres (think hoisin grilled Black Belly lamb and mahi ceviche with avocado mousse), guests had the opportunity to mingle with Top Chef honcho Tom Colicchio, Asian fusion guru Ming Tsai and our own Marcus Samuelsson. Also in attendance: Travel & Leisure Features Editor Nilou Motamed, wine expert Anthony Giglio, Bajan chef and rum expert Paul Yellin (who is now working with Southern chef of the moment Sean Brock in Charleston), London chef Bruno Loubet, Vitor Gomes from Brazil, Canadian chefs Mark McEwin and Tom Brodi as well as a number of local and incredibly talented Bajan chefs.
A Whole Mess of Cooking Demo's
Saturday's cooking demo at the unreal gorgeous Sandy Lane Hotel began with Ming Tsai, who decided to wing it with a "Ming on the fly" style demonstration where he was given a few key ingredients and asked to work his magic. Mystery ingredient number one: local Barbadian rum morphed into a blended pineapple and mango "cocktail on the fly" which then made a second appearance in a lobster sauté accented with garlic and ginger. Tsai's signature ebullient storytelling, which included a near death ice fishing incident (you'll need to ask him) kept the crowd chuckling throughout the hour-long show.
Tom Colicchio was next and more technique oriented in his presentation, but nevertheless still charming in a sort of Jersey guy way. For a standing room only crowd, he whipped up a lovely roasted eggplant stuffed handmade agnolotti with a simple marinara sauce while sharing personal memories of Sunday gravy days and the importance of family time at the dinner table. His dedication to the craft of cooking was clearly evidenced as he went on to impart an array of culinary nuggets including the importance of learning actual techniques when cooking versus simply opening up a cookbook of recipes. He even took an innocent jab at a certain Food Network personality when he announced, "There are no 30 minute meals. Real cooking takes time."
Marcus Samuelsson's cooking demo was held al fresco overlooking the azure Barbadian sea at Waterside Restaurant where, while whipping up a classic spiced fish sandwich, he casually interjected, "Spices can show where you've been or where you come from". Samuelsson's commitment to fighting hunger was never far away as he shared tips for reducing food waste when cooking at home. "We throw away 33% of our food," he said. "Save 5 percent each time and we can eliminate hunger,"
He mentioned sautéing leftover onion skins in oil for easy added flavor and instead of simply buying stock when making rice dishes at home to try tossing in a leftover chicken bone along with some water for an impromptu homemade stock.
Ambrosia II and Super Sonic First Class
Saturday night's main events were held back to back, beginning with the return of the Barbados, Food & Wine and Rum signature tasting extravaganza Ambrosia held at the Lion Castle Polo Estate where all of the invited chefs (except for Tom Colicchio who was saving his energy to host a dinner at The Cliff the following evening) lined up to showcase their best of the best.
As the wine and Mount Gay rum flowed, guests circulated from table to table while local Bajan chefs shared their culinary creations alongside guest chefs. Highlights included a simply prepared yet genius crostini topped with lamb Bolognese and mint ricotta from Mark McEwan. Tom Brodi served maple glazed duck as a skewered little bite resting atop a sweet cornbread square while Bajan chef Paul Yellin went back to his roots with an inspiring combo of spicy local pork "pepper pot" with cheddar and okra breadfruit cou-cou. Ming Tsai went with an ahi tuna "new style" sashimi accented with a sprinkling of toasted rice while Marcus Samuelsson played his signature comfort food card with a jerk bacon and smoky baked beans accented with a dollop of egg salad.
We ended the evening at that airport hangar where more food and beverages were placed before us—but this time I found myself gnawing a jerk chicken lollipop while standing underneath the belly of an actual British Airways Concorde jet. As Rihanna blared partygoers "wukked up" (what we call booty shake) until the wee hours.
Sunday Bajan Fiesta
As Sunday morning, well, afternoon rolled around, it was back to the food, and this time it was all about real deal Bajan cooking. The Sunday meal is perhaps the most important one of the week in Bajan culture and this festival emphasized the best of what this local cuisine is all about.
Held at the Lion Castle Polo Estate, this time it was all about the local chefs with different food stations offered their personal "expression" of a local ingredient. From pork, beef and seafood expressions to soup and dessert, each table became a microcosm of true Barbadian culture and cooking.
Expressions of pork included a whole roasted suckling pig doused in an apple chutney glaze and was out of this world good. Traditional Bajan souse was served alongside a bacony potato salad and rich breadfruit gratin compliments of local chef Henderson Butcher. Beef was reinterpreted several ways as well—as a classic Bajan beef stew in a crispy potato cup, a Teriyaki braised beef short rib, a Thai beef salad with green mango, and my personal favorite of the brunch, the braised cabbage with chewy Barbadian-style beef jerky. Chicken was fall-off-the-bone tasty as a "Bajan Spiced Roast Bird" and the accompanying "Grand Mama's' macaroni pie did an excellent job of soaking up all the previous night's rum.
A big nap-inducing brunch was the perfect ending to a great weekend. Keep your eye out for next year's event, which usually takes place in November and experience food, rum and true Bajan culture for yourself.
---
More food festival coverage at Food Republic: