The Dabba-Walla, A Tale Of Triumph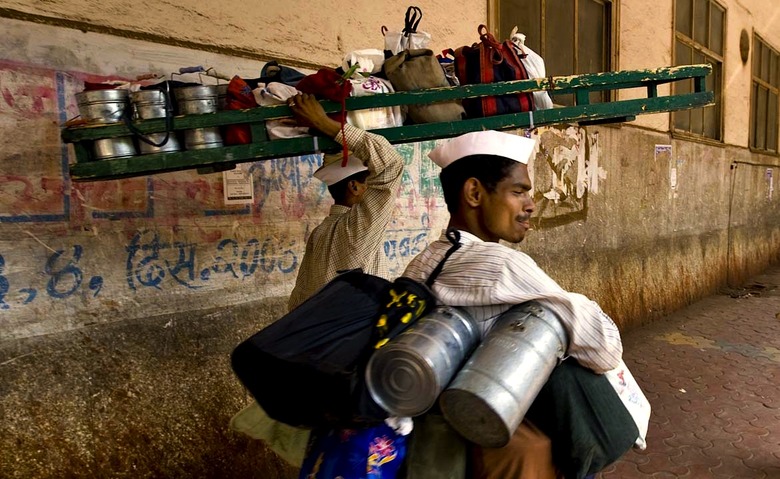 tiffin wallahs in Mumbai
We may receive a commission on purchases made from links.
Update: we're still all obsessed with that Indian place. We're on a first-name basis now, Food Republic and Minar, and we've heard from several sources that other websites in the vicinity are following suit. While we're on this kick, let me tell you a story of how actual Indian people get their Indian food at work. They just call it food, though.
Every day in the city of Mumbai, which has about 2.5 times more people than New York even though it's half the size, about 250,000 hardworking men get their lunch delivered from home. Wives pack up a tiffin, or dabba, a set of round stainless steel boxes that stack and lock at the top. In each box, a different dish. A delivery man, or dabba-walla (walla means "doer of something") collects her and many other husbands' lunches and brings them to a sorting station, where they're divided up according to destination and delivered precisely on bicycle, foot or accompanied on a train, on-time within five minutes. They rarely, if ever, make a mistake — even during the monsoon, when streets regularly flood to knee-depth.
When lunchtime is over, they collect the tiffins and bring them back. What's so impressive about this traditional practice that it earned Forbes magazine's six sigma standard of reliability? Typically, these delivery men can't read. The tiffins are marked to distinguish one from another, and from there it's up to the walla to accurately ferry to and fro. Some have adapted mobile technology, but most stick to the 125-year-old tried-and-true methods.
Why don't those lazy dudes just bring their own lunchbox and carry it home themselves? The service is so inexpensive, accurate and hitch-free that lugging a three or four-tier metal lunchbox in a city far more packed than Midtown during Friday rush hour isn't worth it. The dabba-walla system is a reliable source of jobs with steady growth each year, and the relationship between worker and dabba-walla is pleasant, friendly and enduring.
Want to give the tiffin a whirl? They're inexpensive to buy, dishwasher-safe, far more eco-friendly than plastic containers and much, much sturdier. Like, run it over with your car and it'll be fine. Your three dishes stay separate and fresh until you're ready to eat. Here's what we recommend you fill it with:
The Chinese delivery guy may not be a certified authentic dabba-walla, but it doesn't mean you can't still strike up a conversation about his daughter's wedding while you're digging through your wallet for a tip.