A Traveling Man's Breakfast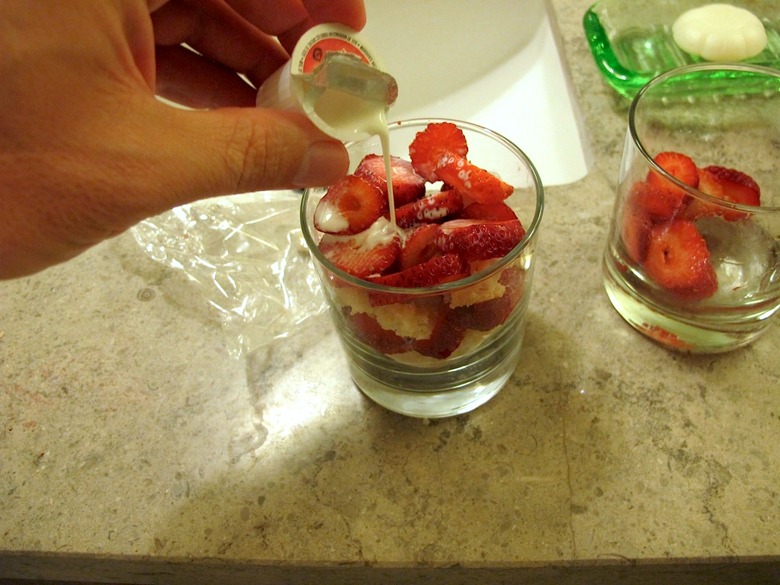 DIY hotel room breakfast
We may receive a commission on purchases made from links.
I ate at The French Laundry two nights ago. Yesterday's lunch was lamb loin and pumpkin ravioli served overlooking plucked grapevines at the Staglin Family Vineyard in Napa Valley, and dinner was whipped up by Masaharu Morimoto (geoduck and snapper with compressed apple), Scott Conant (rabbit agnolotti with fois gras and horseradish), and Cindy Pawlcyn ("Bachelor's Lamb Tagine") at the Silverado Resort. I'm being fed very well at this, the inaugural Flavor Napa Valley Food Festival, so I woke up and thought: do I really need to leave my hotel room to get breakfast?
I looked around. The maids at the St. Helena Meadowood had left two coconut macaroons on my pillow. In the mini-fridge were two baskets of strawberries I'd bought at a farmstand while driving up. A plan started taking shape. I put on a fluffy hotel bathrobe. Naked cooking can be dangerous, even without a burner to worry about.
I sliced the strawberries with a butter knife I found near the coffee maker —the coffee in the pre-measured pods is from Peerless Coffee & Tea in Oakland, and it's pretty tasty.
I crumbled one of the pillowy macaroons into the bottom of a water glass and layered some sliced strawberries over it. The strawberries are a thousand times better tasting than the ones I buy at Whole Foods in Manhattan. These Napa strawberries lacked all tart restraint and burst with sweet strawberry flavor.
The maid had slipped a printed manilla card under the macaroons, some bedtime reading. On it was a quote from Plato: "Wise men talk because they have something to say; fools talk because they have to say something."
Interesting, especially as I had the TV on while I was preparing breakfast. Alton Brown was demonstrating the proper way to fry a turkey. Not a fool he: odds are it was his ingenuity which inspired me to try what I was trying. (Thanksgiving tip also inspired by Alton: only a fool fries a turkey naked.)
I layered another crumbled macaroon in the glass and then more strawberries. I poured two mini-containers of half-and-half pilfered from the minibar (coffee, tea, water and half-and-half is complimentary) over the top. Ta-DAH!
I brought it over to a table by the window as a bright, cold morning was dawning. Oak trees caught the new day on silvery leaves. I poured a cup of decaf and enjoyed it with the strawberry-macaroon parfait while paging through "Napa Valley: The Land, The Wine, The People," by Charles of O'Rear and Daphne Larkin.
Delicious. Creamy, chewy and fresh-tasting.
As I write this, I'm eyeing the ice bucket and packets of sugar. I wonder what I'm having for breakfast tomorrow?