5 Southern Beers To Try Right Now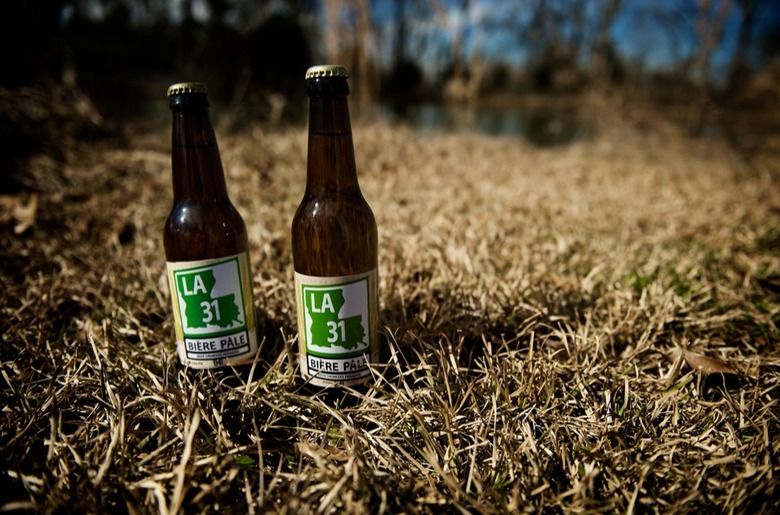 As a city, New Orleans excels in the culinary arena. It makes the marvelously meaty, olive-strewn muffaletta sandwich. Crusty po'boys packed with fried oysters and shrimp are tasty to the last crumb. The absinthe-haunted Sazerac cocktail exemplifies potent balance. But beer, well, that's barely an afterthought.
In New Orleans, beer has long been consumed by the Big Gulp, with quantity mattering more than quality. Miller High Life and its watery ilk are as omnipresent as beads come Mardi Gras. Down in the Crescent City, it seems like nary a shot has been fired in the craft beer revolution.
At least that's what I thought until I arrived at the Avenue Pub last week. Ostensibly, I was in town for a family reunion (it's a long story how three dozen New York–bred Jews ended up in the Big Easy). While there, I thought, I might as well add a stop to my Brewed Awakening book tour. But where to go? I doubted anyone on Bourbon Street, home to three-for-one Buds and Hurricanes as sweet as Halloween candy, gave a damn about a book on craft beer.
"Go to Avenue Pub," offered my friend Joel, a longtime NOLA resident. In the last couple years, I learned, Avenue Pub seriously upgraded its tap lines, offering dozens of drafts focused on of-the-moment American and European ales and lagers. Sure, it's terrific to carry Sierra Nevada and Stone. But upon arriving at the Avenue (located off the St. Charles Avenue street-car line), I was more struck by the breadth and scope of novel locally brewed beer. From Mississippi, Lazy Magnolia made a marvelous stout hewn with sweet potatoes, as well as an ale dosed with pecans. Louisiana's Bayou Teche turned out beers suited to the Southern palate. And right in town, NOLA Brewing crafted the pungent Hopitoulas IPA, which could stand toe-to-toe with anything from the West Coast.
I spent the evening sampling brews from below the Mason-Dixon Line, finding a delightfully idiosyncratic craft beer culture on the rise. Here are five Southern beers worth seeking out next time you make it down to New Orleans.

NOLA Brewing: Hopitoulas
Taking its cues from the West Coast, this forthright IPA is crafted with six hops and malts apiece—and registers a symmetrical 6 percent ABV too. The beer presents plenty of citrus and pine, but there's a balanced bitterness too that keeps you coming back for sip after sip.
Lazy Magnolia: Southern Pecan Nut Brown Ale
Husband-and-wife team Mark and Leslie Henderson (guess again­—she's the brewer) head Lazy Magnolia, Mississippi's first craft brewery. Leslie focuses on Southern ingredients such as roasted pecans, which give the amber-toned ale a nicely nutty character. It's better than you think.
Bayou Teche: Bière Noire
By focusing on beers designed to complement complex Cajun and Creole cuisine, Bayou Teche stands apart from the Southern pack. While the biscuity LA-31 Bière Pâle is a treat, I favor the Noire: The robust dark brew packs dark-roasted coffee, wisps of smoke and drinks crisp and semi-dry too.
Abita Beer: Satsuma Wit
For its Harvest Series, the long-running Louisiana brewery focuses on agricultural products grown in state, such as strawberries, pecans and the Satsuma (a seedless citrus fruit). The pale, cloudy brew is a refreshing thirst-quencher with nice notes of orange.
Tin Roof: Voodoo Bengal Pale Ale
Based in Baton Rouge, the brewery's nicely hopped pale ale is crafted with Louisiana-harvested cane syrup, which provides just a lick of sweetness to round out the bitterness.
---
Read more about craft beer on Food Republic: