Tailgate Toe-To-Toe: Cowboys Vs. Redskins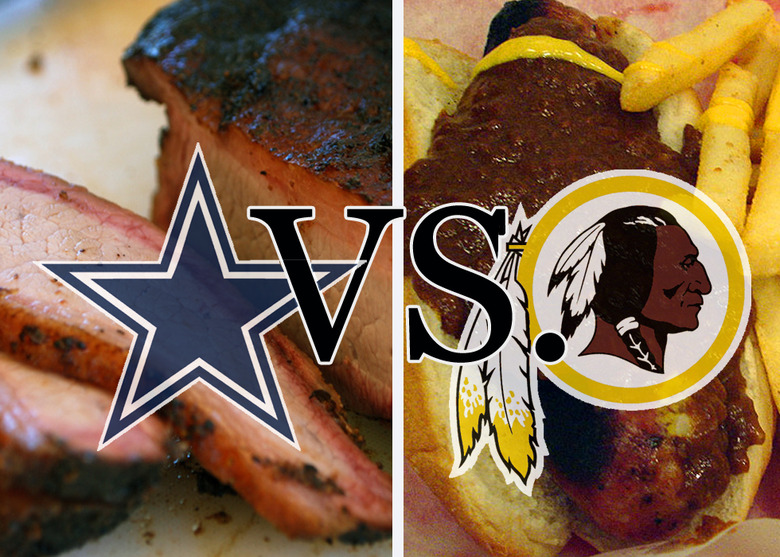 Cowboys v. Redskins
Tailgate Toe-To-Toe picks a weekly NFL game and analyzes the matchup—on the field and in the parking lot.
Dallas is a legitimate city and TV series – take Patrick Duffy's word for it. In fact, an alternate take of the "Who Shot J.R.?" episode had Larry Hagman coughing up BBQ brisket (not accurate) as the bullet penetrated his stomach – just inches above his stylish belt buckle. The Lone Star State has a variety of ways in which they cook their beef, but the most well-known method comes from East and Central Texas. In the East, the meat is slowly cooked over hickory wood and marinated in a tomato-based sauce, whereas Central Texas rubs their cut down with spices before cooking it over an indirect oak or pecan-wood source. Either way, your result is succulent, falling-off-the-bone, authentic barbecue. Wash it down with a frozen margarita, a drink invented in Big D, and a reason for all of us to tip our caps for them Cowboys.
The Cowboys Life Car Club is certainly the most diversified fan organization that's been covered here at T4. What started as a tailgate turned into a showcase of customized Cowboys-inspired automobiles...leaving pre-gamers' mouths agape as they watch the hypnotizing spinning rims of the "Dynasty" and "Blue Stallion."
Images of football greats, past and present, adorn hoods and car doors, which are all carefully watched over by their owners – none of whom actually attend the games. When you have TVs installed in the cars, who needs Jerry Jones' jumbo-tron?
If you asked me yesterday what a half smoke was – I would probably answer, "Cheech. Or Chong. Half the team." But today I can tell you that it's a sausage delicacy straight-outta Washington, D.C. Think of it as a half beef, half pork smoked sausage, served with onions and chili sauce. You'd think the nation's capital would do a little bit more to advertise their variation on the hot dog – especially on moneymaking holidays like the 4th of July. When you think US of A, you think White House – in need of profit now more than ever – and here we have an All American sausage to pair with life, liberty and the pursuit of happiness.
All hail The Hail BBQ Crew – doing Redskins fans proud by excluding Cowboys, Steelers and Eagles fans from participating in their tailgate. Especially Eagles fans. "Tailgate" Ted leads a 6-man cooking team on game days, serving up dishes inspired by the visitors. Every week, a bevy of appetizers and entrees are served for a "suggested donation," including a steady flow of bacon-wrapped filets and mini chicken tacos. Puns on opposing quarterbacks' names seems to be a popular trend – as the Crew featured Eli Manwiches and Ben Roethlis-burgers on pervious menus. Everyone loves puns on a bun.
As a Giants fan I fear the emergence of the Cowboys. You have a QB who has won over his team and city by playing with a broken rib, the most dynamic running back they've had since Emmitt Smith in DeMarco Murray, and an absolute freak named Dez Bryant. Throw in the sure-handed Jason Witten, NFL sack leader DeMarcus Ware, and defensive mastermind Rob Ryan, who is using Dallas as the last stop on his trip to a head coaching job. The team is putting up 278.4 yards in the air, 125.4 on the ground, and giving up a total of 327.8 to their opponents. Bad news for the...
After a fifth straight loss, Redskins linebacker and Geico spokesman Brian Orakpo put it bluntly: "It's like every team we're going to play, they already know they're going to win." Rex Grossman is back in the offense's driver's seat, but threw 2 picks and no TDs vs. Miami. Fred Davis, a surprise re-emergence for the Skins, has violated the league's substance abuse policy – but no word on if/when he'll receive disciplinary action. And the one consistency in Mike Shanahan teams of the past, the rushing attack, has been a huge inconsistency with the Roy Helu and Ryan Torrain "committee." This season serves as a reminder to team owner Daniel Snyder that big time names with interesting spellings on paper, like DeAngelo Hall and LaRon Landy, don't equal wins – even though Washington's secondary is ranked 9th against the pass.
No brainer here as the Dallas takes a necessary division win. GAME PICK: Cowboys 35 Redskins 13
It pains me, but giddy up Cowboys fans, you got yourself a T4 sweep. FOOD PICK: BBQ Brisket 33 Half Smokes 12
---
More tailgating on Food Republic.