Martial Vivot: Hairdresser To The Chefs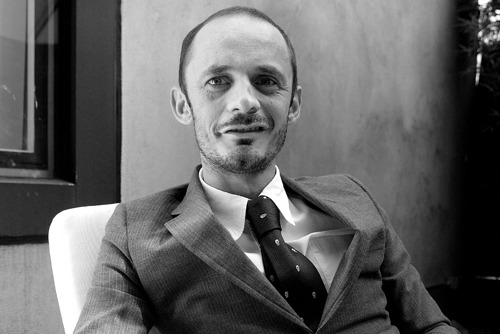 Martial Vivot
While cutting your hair at his tony Midtown salon for men, Martial Vivot won't just tell you what shampoo you should be using, he'll also dispense knowledgeable advice on where to grab dinner later on. And he knows what he's talking about on both fronts. Since moving to New York 12 years ago, the French-born hairstylist has claimed some of the city's best-known chefs — Geoffrey Zakarian and Daniel Boulud, for example — among his clientele, which also includes rock stars, actors and finance guys who hardly blink at the cost of $215 for a haircut.
An enthusiastic food lover, Vivot tells us how that very same curiosity for all things edible has been adopted by his six-year old daughter. But it's not all truffles and foie gras at the Vivot household, where the family celebrates Thanksgiving, turkey and all, just as fluently as any American. Here he elaborates on some of his favorite traditions, along with the cost effectiveness of a good haircut.
You mentioned earlier that you were watching the Next Iron Chef with Geoffrey Zakarian. I misunderstood and thought you were watching the show in the company of Geoffrey, but you were actually watching him on it. I take it you're a fan?
Well I'm a big CHEF fan. I love food. I love, love, loooove food. And I happen to have clients who are chefs, so I like to look at how they perform on the shows, and how they look — especially someone like Geoffrey Zakarian, who's on TV a lot. I've been cutting his hair for 10 or 12 years now.
Most hairstylists aren't that devoted.
Well, besides the fact that Geoffrey's been a client for so many years, I have a big admiration for him. When I first arrived in New York City 12 years ago, he opened his restaurant called Town at the Chambers Hotel. That was just for me the perfect definition of New York dining. And I think since that time, I never had as much fun. Everything was so well-thought-out in that restaurant.
Any current favorites?
I have many! In my neighborhood, there's this new Korean place called Danji. They have a pork slider, and this tofu-ginger scallion dish. I bring a lot of friends there, and it's good because they have a lot of small portions. You have fun without being so stuffed.
What about French places?
Right behind the salon, there's Benoit, and I'm very happy because they just brought Philippe Bertineau back in the kitchen there. He had been the chef at Payard for a very long time. One of my favorite dishes there is steak frites. The way that he does it — he does the best steak frites and the best foie gras in town right now.
Do you have children?
We have one six-year-old daughter and one on the way! Due in April.
Congratulations! Has having a child affected your eating-out habits and the styles of places you go to?
My wife has worked with a lot of restaurants and chefs in the past, so we have a big crowd of French chef friends. Give my daughter a candy, and she won't eat it. Give her a truffle, an olive, give her some caviar — she will jump on it!
Seriously?
I'm very serious! There's this new place that opened downtown called Prima. We went to check it out last night and she wanted oysters, for example. If you had given me an oyster at six years old, I would have been sick. She's definitely a foodie.
How are you celebrating Thanksgiving?
We have a lot of foreign friends, so we have a big party and friends bring food, they bring pie, they bring wine.
For a foreigner, it sounds like you've really embraced the togetherness of the holiday.
I love Thanksgiving. It's my favorite holiday. I love the concept. You don't have to give yourself a headache thinking about gifts. You just show up or your friends come over, and bring a bottle of wine or champagne, or something to eat, and that's all. It's a very good time to get around the table.
Do you cook a lot of the traditional dishes?
Oh yeah! Turkey. My wife wanted to kill me for this, but two years ago we had Thanksgiving with our friends, and I kept inviting people to pass by, and I remember we ran out of turkey and she went to buy more and...everything was insane.
Americans take their turkey seriously that day. What are some of your favorite dishes?
I think I have a weakness for the pecan pie. And my very first Thanksgiving, I remember I discovered sweet potatoes.
As a food lover who's so in-the-know, you probably never run out of things to talk about with most of your clients, especially in a city like New York.
Yeah, it's definitely a conversation we have on the chair. Where to eat, where to go out...I talk about this with my chef clients, but also any clients.
What are some areas of grooming that you think more men need to pay attention to?
You'd be surprised by how many men don't know about good shampoo and conditioners.
How long does your morning grooming routine take?
I would say half an hour. The thing is, most of the grooming part happens at the salon. I don't shave. I love to be shaved, so I like when I can get that done at the salon. I like to be pampered.
The cost difference between a scissor haircut and a standard one with clippers can be pretty extreme. What makes a scissor cut the better choice?
In general a scissor cut is much better because your hair grows out more in the shape of the original cut — it's not so blunt. But also, when you use clippers, sometimes they push the hair down and so it's not always even. And you have to get your hair trimmed more often with those cuts. So you can pay a lot at once and have a good haircut that lasts as much as a month and a half, or you can pay to have a haircut every two weeks.
You've probably road-tested more than your fair share of hair products. Any recommendations?
I really love Phyto. When I was opening the salon, I tried a lot of products and I didn't want to be swayed by price or anything so I took on their products without looking at price point — I just wanted what was good. And compared to some other brands, they're actually not that expensive. They started in the late-'50s and it's still a family-owned company.
There seems to be a major return to small-batch, homegrown products these days, with everything from food, to clothing and grooming products.
Right. Today everyone's about the organic products. [Phyto's products] are not organic, but they're one of the very first ones to play around with natural ingredients, and so you gotta give them credit for that.
---