We're All Obsessed With That Indian Place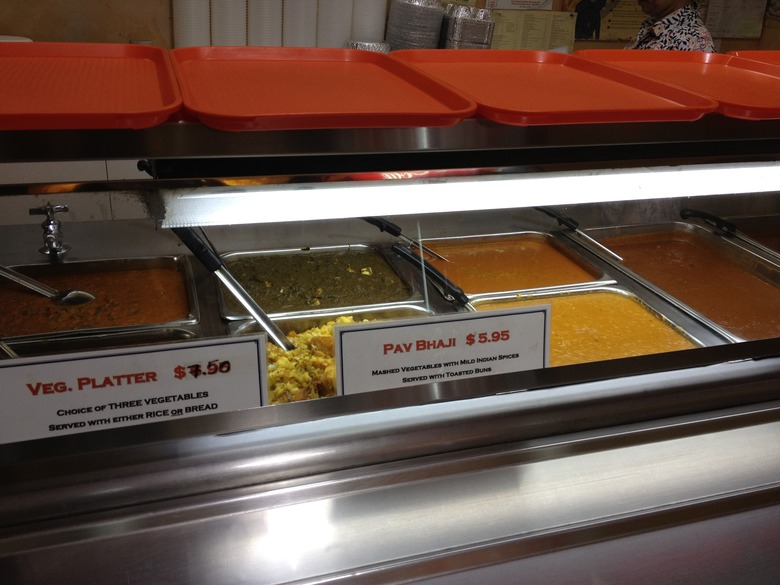 NYC midtown Indian spot Minar
You may think the Food Republic office smells like fine aged scotch, rich mahogany and many leather-bound books, à la Ron Burgundy. I won't dash your hopes there. But come lunchtime, it smells like at least three of us eating some of the best cheap Indian food in the city from Minar. This hole in the wall on 31st between 5th and Broadway is so inconspicuous, hidden by construction scaffolding and masked by an all-too-fragrant Subway, that you almost can't see the plethora of Indian locals getting their comfort food fixes.
At the counter, women yell at each other and to the kitchen. That's how they show love, trust me. The other way they show love is by making the kind of food they'd make for their families. I can name five Indian spots off the top of my head that would charge you upwards of $20 for curried quail or goat biryani. Not at Minar. They're $6.95 and $7.50, respectively, and come with rice, salad, raita and a knowing smile which means the cashier knows I'm at least partially Indian.
Now my mom is an Indian chef. She's actually a blonde from Five Towns, Long Island, but her chosen profession is grinder of garam masala and spinner of dosas. As a result, I am very, very picky when it comes to desi khana. I ordered kheema first, my ultimate Indian comfort food. After eating the entire 2+ serving container, doused with homemade yogurt, I went up to the counter and said, "that tasted like my mom's." I was met with several enormous smiles and inquiries as to which part of India my mom is from.
What's most impressive about Minar is their mastery of both Northern meat curries and Southern idlis, dosas and other fermented rice and lentil specialties. Few Indian restaurants take on the challenge of serving both cuisines, as they're very different. Much as the interior leaves to the imagination, the dining area is always packed, the line long and the chafing dishes frequently replenished. My recommendations: any of the biryanis, the cheese and tomato utthapam (a pizza-like creation on a thick, crisp pancake similar to a dosa), the curried quail and, of course, charred, doughy homemade naan. No frozen stuff here.
It's a good day when the smell of our fine cigar humidor and English lavender shaving lather is overpowered by house-blended spices, chilis and garlic, as we fan our deliciously burning mouths.