No Spill Electric Pepper Mill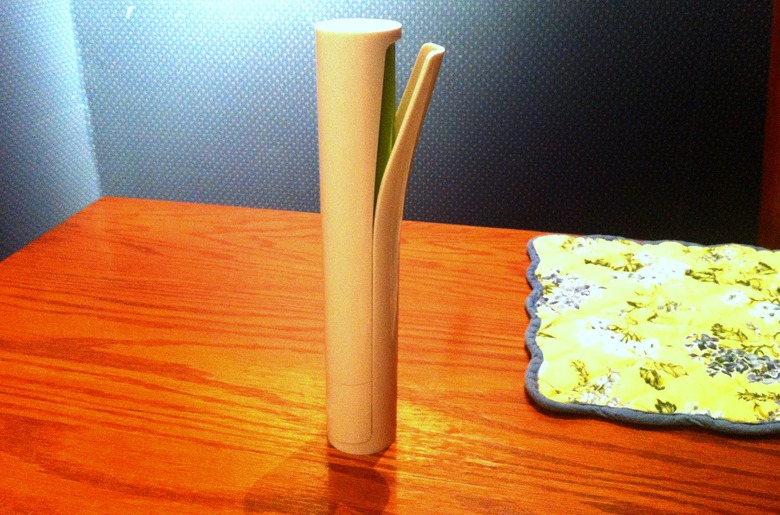 We may receive a commission on purchases made from links.
Just as every coffee lover worth his terroir knows a morning brew tastes better when using beans freshly pulverized in a burr grinder, any spice lover worth his, well, salt should know that salt and pepper have a more robust flavor when the peppercorns or crystals have been freshly ground in a mill.
But even those bat-sized wooden mills wielded by the restaurant pros have one annoying flaw: set it down or give it a light tap and a confection of spice will scatter from the bottom, littering table cloths, cabinets and kitchen floors.
To prevent coarse ground collateral damage, Joseph Joseph offers up their No Spill Electric Salt and Pepper Mill. While most mills have seals about as tight as Jerry Sandusky's alibi, the tube-shaped No Spill's bottom skips the standard seal and instead has a lever which, when squeezed, exposes the mill and begins the electric grind. Stop squeezing and the mill is covered to make sure no excess granules escape post-grind.
Positive (+)
Compared to other bulbous grinders, this sleekly designed mill is a pleasure to place in your cabinet — or even keep out there on the table. Loading is easy — remove the back, flip down the chute and add your corns or crystals — as is operation. A simple squeeze of the trigger pops open the bottom and the motor grinds efficiently. And the best part is the No Spill lives up to its name. Nary a speck of salt or pepper slipped out the bottom.
Negative (-)
It requires four AAA batteries to operate, which I find excessive for something that serves a single function. And while there is a way to fine-tune the mill by twisting the bottom, my tweaks didn't make much of a difference and every grind yielded a coarse confection.
Verdict
The No Spill Electric Pepper Mill is a well-designed, clever upgrade from standard twisting models. It's easy on the eyes, grinds well and doesn't make a mess. However, at almost $30 it is steep for a grinder. $27.99; amazon.com
---
More products tested on Food Republic: