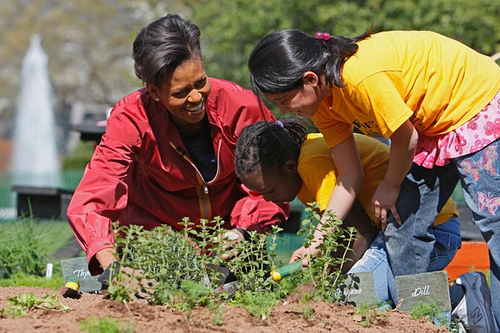 Were you the last to know that there was a fatal E. Coli outbreak in Europe? Have you only recently learned which fish are sustainable? You, dear reader, are in dire need of food news and politics websites to keep you up-to-date with all things political in the food world. And when it comes to politics, let us assure you that the politics of food are the most entertaining kind. That's why we follow food politics closely, and feature stories regularly in our Politics tab.
Below are the five food sites that we also like, to keep you informed about the news behind what lands on your plate — or the Obamas' for that matter.
1. Food Politics
NYU Nutrition, Food Studies, and Public Health professor Marion Nestle gives her insights on the latest hot topic in the food world (be it marketing junk food to kids or Denmark's "fat tax"). And don't skip the often highly opinionated comments, which can be as entertaining as the posts.
2. Obama Foodorama
Want to know what's in Michelle Obama's garden or what the White House's homebrew tastes like? Obama Foodorama is the destination for anything and everything culinary in the White House including the occasional recipe from the First Family (I recommend the Obama Family Chili Recipe).
3. Civil Eats
Civil Eats covers a wide range of topics, but focuses heavily on the environmental aspects of food policy. The site's comprehensive overview of energy policy, the environment, food access and life on the farm is sure to satisfy all of your food policy interests.
4. Food Safety News
Did the European E. Coli breakout give you the creeps? Read Food Safety News to stay up to date with food recalls and nasty outbreaks — of which there are always at least a few going on. Just this week 32 cases of E. Coli were reported in St. Louis, while broiled chicken livers made over 100 people sick in New York and New Jersey. A few words of caution: this is not the site to read while eating lunch.
5. NPR's The Salt Blog
The Salt is NPR's newest blog that focuses solely on food news and stories. Not all posts are political (one of the latest is about a cheese sculptor), but all are enlightening and often amusing, just as you would expect from NPR.
---
More like this on Food Republic.