A Seat At Nashville's Catbird Seat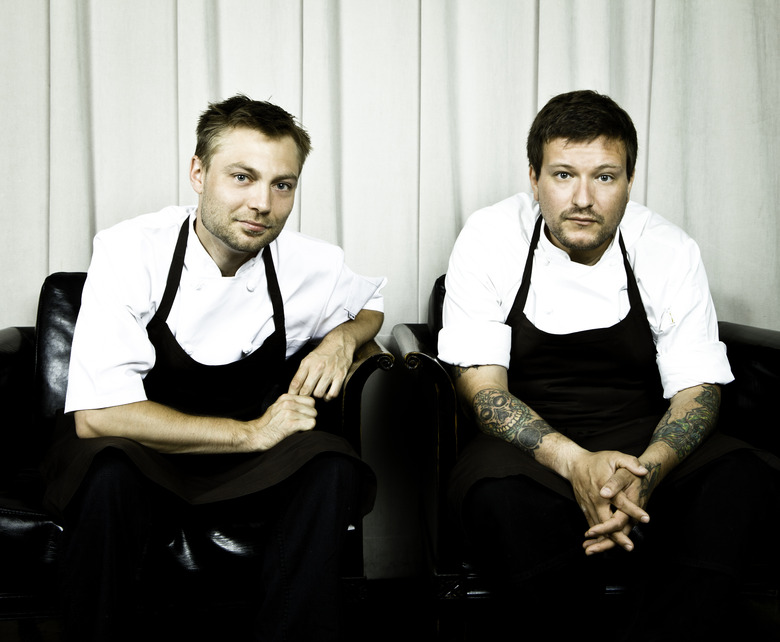 Nashvillians are not known for liking small food. Music City diners prefer "Meat and Three" restaurants where cafeteria trays are heaped high with (un)healthy portions of fried chicken, vegetables cooked with fatback and slices of pie topped with impossibly high dollops of meringue.
So when Nashville restaurateurs Max and Ben Goldberg announced that they were going to open The Catbird Seat, a 20-seat chef's table serving an innovative prix fixe tasting menu, local restaurant fans took interest. The Goldbergs already had experience pleasing the high-end fine dining crowd as owners of the tony Merchant's Restaurant in downtown and The Patterson House, Nashville's most popular speakeasy-style cocktail emporium. The culinary team was assembled, led by co-chefs Erik Anderson and Josh Habiger, two young guns with deep resumes that included stints at Craft, Alinea, The French Laundry and Noma.
Only 32 diners are seated per evening, each paying $100 for a 7-9 course tasting menu. Beverage pairings are available for $30 or $75. The price in the high-end price range for Nashville dining, but nowhere near the cost of a similar experience in New York or Chicago. Owner Ben Goldberg is not worried about scaring off patrons with the cost of the meal or the size of the portions. "It definitely surprises a few people when they see that the plates are typically only a few bites of food," he says. "One of the things that we all spoke about during the development of the restaurant was that even though we were going to be doing a tasting menu, we wanted to always exceed peoples expectations, especially when it came to the food and drink options. For that reason, we wanted to offer a few snacks to start and then a small bite of something sweet before they left."
So what's the cooking like at The Catbird Seat? Upon sitting down, diners are greeted with precious "faux-reos" made with dark Porcini mushroom cakes sandwiched around a Parmesan cream filling. A trio of snacks features a goof on one of Nashville's culinary landmarks, hot chicken. Rather than the usual presentation of a fried breast quarter, seasoned to a dark, infernal red with a secret combination of spices and brimstone, the chefs at The Catbird Seat have deconstructed the local favorite into a single delicious bite. A postage stamp-sized piece of chicken skin is baked crispy between two pans and then brushed with sorghum before being sprinkled with a heavy coating of cayenne and paprika. A Wonder Bread puree is piped on top, and a final dash of dill salt completes the homage.
The Catbird Seat menu is certainly novel and experimental, but the chefs do not play with molecular gastronomy just to show off their chops. A dehydrated ribbon of kimchi is wrapped around a perfectly poached piece of cod which has been cooked sous vide to exactly 61.2° C. The resulting dish has a lovely creaminess that contrasts nicely with the crunch of the accompanying kiwi and pickled watermelon rind. Finally, a swath of avocado puree and coconut powder dresses the plate and adds a tropical touch to the dish.
Although the dishes changes frequently based on the chefs' whims and the availability and seasonality of ingredients (almost the entire menu has flipped in the first month since the restaurant opened), much of the cooking revolves around anchor proteins: duck, chicken and beef. With such a varied menu, Beverage Manager Jane Lopes really shines with her drink pairings. A veteran of the Violet Hour in Chicago, Lopes does not limit herself to simply matching wines to flavor profiles. Instead, pairings may consist of specially-constructed cocktails, Belgian beers, barley wine, exotic sakes, as well as non-traditional red, white and sparkling wines. One of the dessert courses — a chicory gelée with chocolate — is complemented by a snifter of bitter Amaro cut with Lucky Bucket beer.
The Goldbergs developed their own custom reservations system to handle the complicated calculus of managing a multi-course tasting with various group sizes, and tastes. Diners on the reservation list create a profile which management uses to note patrons' preferences and record their likes and dislikes of individual courses for future consideration.
As a native Nashvillian, Ben Goldberg knows the importance of tracking his neighbors' reactions to their dining experiences. "I personally believe that Nashville is a very rare, amazing and unique city. It is a very supportive city, one that will give you the chance to succeed. In a lot of cities people are looking for reasons why it won't work or why something is wrong with it, however, my experience in Nashville is that it is very supportive and wants you to succeed and wants you to do well. They will give you the chance and if you can exceed their expectations they will continue to support you."
Goldberg thinks that Nashville is ready for The Catbird Seat. With a backlog of reservations already stretching through the end of the year, it looks like he may just be right.
The Catbird Seat 1711 Division Street Nashville, TN 37203 thecatbirdseatrestaurant.com
---