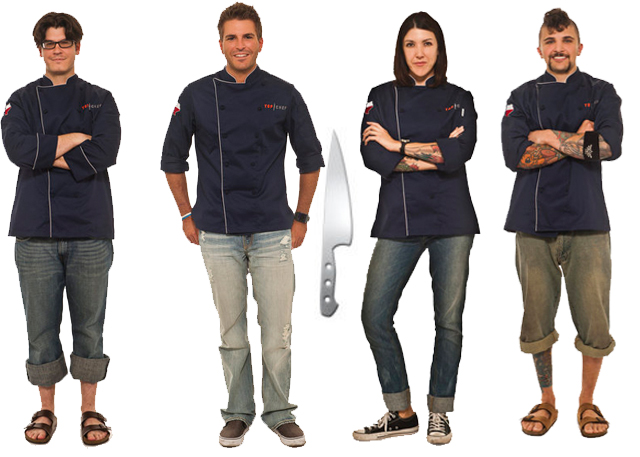 Is your Fantasy Football team tanking worse than the Eagles this season? Never fear, everybody's favorite cooking reality competition show not called Iron Chef has returned. To mark its ninth season, Top Chef Texas is raising the steaks. Get it. Texas. Beef. Sorry. So you like Top Chef? You like competition? Here's a little fantasy game we've created for the season.
PARTICIPANTS
First thing you'll need is some friends, 4-6 in the league total. Got your friends? Good!
PRIZE
Decide on an entry fee, which will dictate the total amount in the pot. In my league, the winner is treated to a Top Chef-level dinner, paid for by the losers. I'm calling Per Se or L'Atelier de Joël Robuchon. Just saying.
THE DRAFT
The most arguable, complicated and exciting part of a Top Chef Fantasy League—dividing up the 16 chefs. Having a vested interest (ca$h money) in the outcome was the only reason I was unabashedly pulling for Carla to demolish Blais at several judges' tables in Top Chef All Stars.
Ideally, a four-person league yields each participant four chefs to play with. There are two ways you can run the drat. Option 1: Random Draft. Simply pick chefs out of a hat and dole them out. Option 2: Strategy Draft. Base your picks from reviewing the first two episodes (where the final 16 where narrowed down from a field of 32) and research items like James Beard nominations, Yelp reviews and Michelin Stars. For an additional resource, see my "Very Early Thoughts" at the end.
SCORING
Points are doled out based on Quick Fire wins, Elimination wins, and Judges' Table Appearances.
Quick Fire Win +5 Points
Elimination Challenge Win +10 Points
Episode Sweep Bonus (Win both QF and EC) +3
Top Judges' Table +1
Bottom Judges' Table -1
Note: You do not lose any points if your chef is sent home, you've suffered enough.
And then of course there's the finale, which is categorized as THE LAST EPISODE OF THE SEASON—not simply the tropical locale they use for the last few tapings.
Making the Season Finale +15
Winning Top Chef +30
And here are my very early thoughts on the season:
Chicago Represents
Five of the final 16 chefs call the Windy City home. At first glance, I see Sarah Grueneberg of Spiaggia and Chris Jones of Moto as the top two seed — with plenty of room for Chuy Valencia, disciple of Rick Bayless, and Richie Farina, another Moto employee, to sneak into the upper echelon. These are four targets for a potentially championship-caliber fantasy team.
Other Hopefuls
I see a lot of value in Whitney Ottawka, chef of the Greyfield Inn and protégée to new judge, Hugh Acheson. I wonder what kind of conflict of interest that will present. Austin local Paul Qui seems to be a strong contender and you have to imagine home court advantage might come into play for a challenge or two. Based solely on Tom Colicchio's reaction to Lindsay Autry's dish, she might have some game too.
Sleeper Picks
Call me crazy, but I'm going to say Dakota Weiss, Ty-Lor Boring and Keith Rhodes will all be solid, surprising picks that can find their way into the final eight and perhaps beyond. Don't let Nyesha Arrington's appearance on the Food Network's Chef Hunters throw you. She still holds the job title she won on the show, and I can only assume it was prior to taping this season of Top Chef.
Chefs I Don't Want to Win
Grayson Schmitz's bio uses a dreaded Top Chef buzz word: Catering. That's a red flag. Plus, she was the last chef in. Chris Crary has already compared himself to Season 6 winner Michael Voltaggio, but nothing on his first plate seemed to back up that claim. Odds are the Second City can't hold a monopoly on competitors for long — and my gut call is Heather Terhune makes an early exit.
Best of luck. And, I love you, Padma.
---
Former Top Chef contestants profiled on Food Republic.