A Feral Feast In The Australian Outback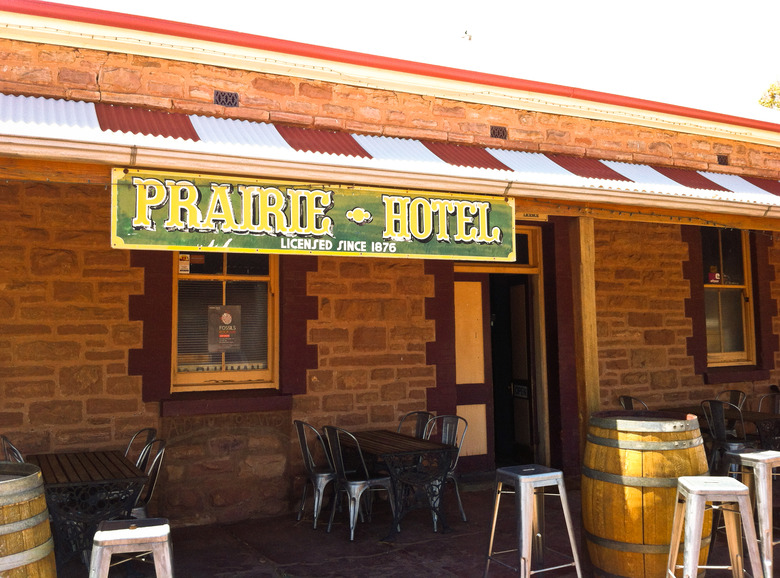 Welcome to Parachilna, South Australia — Population: 7. It's hard to call it a town – it's more of a way station – but it's the only place you'll come across between the Flinders Mountain Ranges and a salt lake called Lake Torrens. There's just one business in Parachilna and it's the Prairie Hotel, a small brick building with a tin roof that looks like it hasn't changed since Curtis Stone's great-grandfather was in diapers. To put it bluntly, the whole town looks like it could have been the setting for the Kevin Bacon classic Tremors. Oddly enough, the Prairie Hotel happens to be home to a restaurant that can hold its own against most city spots.
You may not expect a restaurant in the middle of nowhere to get in on the locavore movement, but the menu at the Prairie Hotel is very much a testament to locally sourced food. Unfortunately, local means something a bit different here than it does in the lush landscape of the Barossa. You'll find emu, feral goat and, of course, kangaroo featured heavily in dishes like chunky kangaroo tail soup and emu liver paté. Add in local produce like saltbush, pepperleaf and bush tomatoes and you've got a virtual outback farmers' market on your plate.
When you're dining at the Prairie Hotel, you have plenty of options, but none are more interesting than the FMG – that's Feral Mixed Grill for the uninitiated. There aren't many people who would recommend that a restaurant call its signature dish "The Feral Mixed Grill," but then again, most people probably wouldn't recommend opening a restaurant in the Australian Outback either. The plate contains a kangaroo filet, bacon-wrapped emu filet mignon and a feral goat sausage all on top of creamy mashed potatoes and soaking in a red wine pepperleaf glaze. It is exactly as appetizing as it sounds.
As far as feral foods go, emu is the winner of the bunch. It's the steakiest of all birds and I wouldn't mind eating it on a regular basis. The bacon certainly helps you forget that this isn't beef you're eating, but emu deserves a bigger shot at becoming an everyday meat. Kangaroo, on the other hand, is and should remain a novelty. It's not bad, but it's not good either. There's a beef-like quality to it, but you have to eat it as rare as possible to avoid it becoming incredibly dry. Nobody likes eating dry kangaroo. I'd venture to say nobody likes eating raw kangaroo either, so there's not much margin for error.
The real loser of the bunch was the feral goat sausage. What's the difference between a feral goat and a domestic goat? Not much, but Australia doesn't have domestic goats, so it's pretty much feral or nothing out here. The sausage looked like a classic Italian sausage and the texture was right on, but the gamey aftertaste made more than a few bites seem completely unnecessary. I'll definitely pass on feral goat sausage in the future.
Luckily, after you've made your way through the FMG, there's a pretty awesome selection of desserts you've never heard of. How about a quandong crumble pie? They call the quandong a "wild peach," but there's more of an apricot flavor to it. If that doesn't suit you, check out the selection of locally made gelato. The wild berry and rosella flower was a great way to get the taste of feral goat out of my mouth.
As a one-time thing, I think it's totally worth it to expand your horizons and check out the Feral Mixed Grill. Beyond the novelty of it, though, you may want to stick to some of the more familiar items on the menu. The Prairie Hotel offers a respite from the drudgery of driving through the outback, and by the time you get to their doorstep, you'll be very happy to stop in and check it out. Just don't get too comfortable – they don't want to have to change the population sign again.