How To Calculate Your Slavery Footprint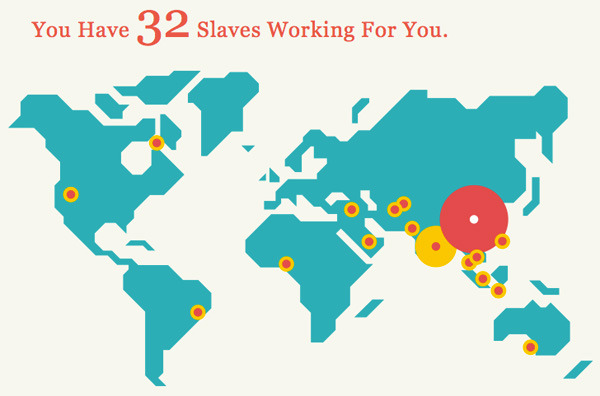 Buying groceries? You probably have an app for that. And if you want to know exactly where those groceries come from, there are hundreds of smartphone applications and websites that allow you to trace the origins of your food and even measure your carbon footprint, taking into account how it was farmed and transported to your doorstep. Surely, you feel pretty good about yourself using these tools – they certainly can help us all make better decisions about what and how we eat.
But one thing they don't necessarily take into account is the human impact of our diet. Specifically, how the people enlisted to grow and harvest food are treated and compensated. A new app reveals the ugly truth about many of the everyday items in our homes: that slaves are used to produce them.
The Slavery Footprint app (found at: slaveryfootprint.org) is designed to calculate how many slaves were involved in the production of the foods in your fridge and pantry, as well as items in the other rooms in your home. It's unsettling, to say the least.
It's not the first we've heard about modern-day slavery in the food industry. Barry Estabrook's book, Tomatoland, based on his James Beard Award-winning article in Gourmet about tomato pickers in Florida, shone a light on such shocking practices as literally chaining workers to their posts to prevent them from leaving.
In the Eva Longoria-backed documentary, The Harvest, children as young as 12 are shown toiling away in the scorching heat as they pick onions, then tearfully expressing their wish to return to school. The film claims that some 400,000 children are hired for a pittance to work the harvest each year. And, yes, we are talking about America here. You don't even want to know what happens beyond these borders. The Slavery Footprint app tells you anyway.
I consider myself something of a locavore, despite cringing at the word. I live in Brooklyn, which is up there with Portland and all of Northern California as a mecca for insufferable foodie types who pride themselves on a 100-mile diet filled with "natural" this and "organic" that. I buy most of my food from the farmer's market, only buy humanely raised meat, and generally avoid overly packaged and processed items, especially from far away. I even compost! I think I do pretty well when it comes to eating sustainably and ethically. And so, imagine my surprise to find that my fridge and pantry were, in fact, filled with items made by slaves.
The Slavery Footprint app, designed in jaunty pinks and yellows and teals, requires you to answer basic questions about how much and what you eat. You're also asked to estimate the number of items you have in various categories—electronics and wardrobe are big ones for upping your overall score. My own result revealed that, despite all my efforts, the everyday items in my household account for some 35 slaves in the world, mostly in Asia and South America.
Granted, my score was mostly affected by my penchant for shoes and the flat-screen TV my better half brought with him when he moved in to my apartment. But it turns out that those raw almonds and green olives I keep my pantry stocked with didn't help. Sure, most of my produce comes from nearby farmers who surely employ salaried, of-age workers. But those lemons I insist on for cocktail twists? Hard to tell who picks those or how they're compensated. I make sure my coffee is fair trade, but the sugar I use to sweeten it? Again, hard to know for sure.
If anything, the Slavery Footprint app is a nifty eye-opener. It's all too easy to congratulate ourselves on our good choices, especially when we aren't aware of some of the evils in the world we inadvertently contribute to. Discovering such evils can leave us feeling bubble-burst. But you can always take action by, say, being more diligent about researching the supply chain of the foods you buy. And it never hurts to write a letter or two.
---
Other smartphone apps reviewed on Food Republic: