Top 5 (Not-So) Little Burgers In Austin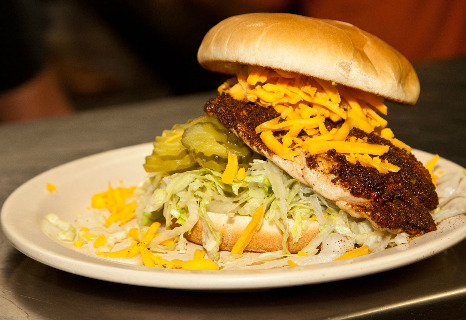 We've got bovines aplenty down here in Austin. And while it does create the ironic juxtaposition where you're rooting for the Longhorns while eating part of a longhorn's cousin, it also means that you'll never go long without a good hamburger.
There's a wealth of exceptional ground chuck in this town, and thanks to the dichotomy that exists between the ever-growing gourmet food scene and Austin's simpler foundation, the idea of the city's best burger is very much left to the devices of one's choice and preference. Though it should be noted that the most official belt holder in town would have to be central Austin's Counter Cafe, which earned the Best in Texas nod from Texas Monthly in July 2009.
That shop's short on space and only keeps daytime hours (8am-4pm), and should you have a craving for dinner, it's best to understand your options. Here are five of the best burgers in Austin:
1. Your Mom's Burger Bar, 1701 East Cesar Chavez
Because owner Ryan Blackmore decided to put his cheese inside the meat, making the rest of the sandwich a little cleaner and the patty more cohesive. Blackmore stuffs his 1/2-lb. Marie Laveau burger with Monterey Jack cheese and boudin, then tops it with lettuce, tomato, onions and roumalade sauce. The whole mix goes into two buttered-up slices of Texas toast, which, since they're slightly bigger than the patty, hold things together and don't let that roulade sauce get out.
2. P. Terry's, Various Locations
For some, P. Terry's is religion. For others, it's option #1 when you're cruising down Lamar and need a quick fix without getting out of the car. Packed like a pee-wee league linebacker, these quasi-fast-food shops capture the essence of what the old school burgers in Austin are all about: greasy, cheesy, yet somehow the type to not leave you bloated. Even a Double won't do you in. And as long as you can get it out of the wrapper by the time you leave the parking lot, the burger makes for good travel.
3. Hut's Hamburgers, 807 West 6th Street
Hut's runs a 2-for-1 deal every Wednesday that is so conducive to their robust menu of burger options that it warrants picking a buddy and going every week. I've done it for stretches of six Wednesdays in a row, but I've got to be honest: I usually just get the Fats Domino. Something about the rusticity of grated cheddar cheese and that New Orleans seasoning that makes you feel every bite; it's a burger with soul, just like Fats.
4. 24 Diner, 600 N. Lamar Blvd.
It's really the caramelized onions that make every bite, but they're just an example of the ways in which head chef Andrew Curren manipulates his burgers to make them taste like something far more glamourous, far less backyard, than any hamburger you or I could make on a given Saturday. With the Bacon Gorgonzola Burger, the chopped onions' sweetness counters the sour hue of the blue cheese, a balance that really brings out the crumbly texture of the cheese without making it overbearing.
5. Hopdoddy, 1400 S. Congress Ave
Though most of the burgers here come with Black Angus Beef, it's actually the Continental Club, a turkey burger, that warrants the bulk of attention when you walk into Hopdoddy. Which worked out well for me since I spent the first part of the meal loading up on the shop's unreal kennebec fries. It also worked out for my buddy Z, who was quick to note that the combination of the turkey burger's heartiness, the basil's expansive freshness and the immediate crunch from the thick bacon made for one of the most fulfilling burger bites in town.
---