FR Test Kitchen Interview: The Beagle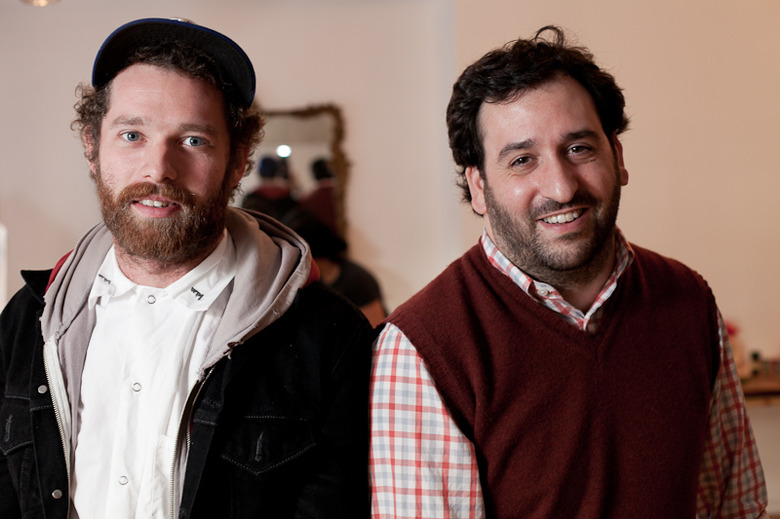 Yesterday we were reporting live from the Food Republic Test Kitchen at Little Owl The Venue in New York's West Village — featuring interviews, anecdotes and fun with fire.
"Really, the concept of the Beagle was to do a place that had all of the things that I like, and whatever came out of that is what it became," admits owner Matthew Piacentini (pictured right) of his East Village restaurant and cocktail spot. (He's also the man behind Portland favorite Clyde Common.) "I love everything here: Everything that is cooked, these are the kind of drinks I like, I love these chairs. I decided to put it all in one room to see what happens."
The result is a complex, yet relatively approachable, with a menu from chef Garrett Eagleton that includes pairings like uni and sherry and jump-off-the-page dishes like lamb nuggets and baby corn elote. The pair stopped by our test kitchen.
Describe the concept at The Beagle.
Matthew Piacentini: It's a place where I think the food is extremely good, extremely unstuffy, extremely approachable. The drinks are very good. The place has been done without kind of pretension.
Tell me about some dishes that you're cooking there.

Matthew Piacentini: I can talk about the baby corn, which has been on the menu since we opened and is the one thing that will probably never come off. It's just adorable and delicious. It's grilled baby corn with mayonnaise, chili, and lime. It's cute.
You're wearing a Texas Rangers hat. I'm sorry.
Garrett Eagleton: I'm from outside of Houston, TX. They really should have won game 6. I mean 3 innings, one strike away, I can't believe. We listened to it on the radio in the kitchen.
So you started drinking heavily after the loss I assume.
Garrett Eagleton: Of course! A round of tequila please. So tomorrow, two years in a row. Gotten so close, but maybe next year.