FR Test Kitchen Interview: Andy Ricker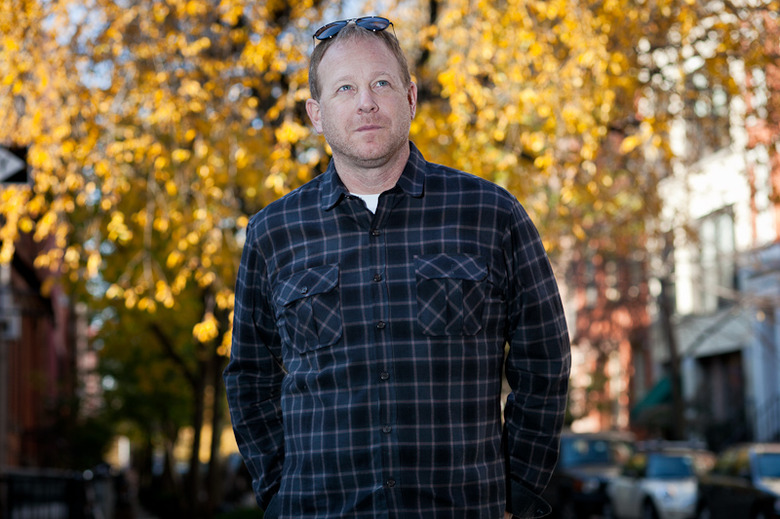 Today we're live from the Food Republic Test Kitchen at Little Owl The Venue in New York's West Village. Keep checking back for interviews, anecdotes and fun with fire.
Portland restaurant man Andy Ricker is the guy behind a mini dynasty of restaurants and bars that take fiery Thai street food to their most-authentic extremes. Take for example the Isan-styled laap — a duck breast minced with liver and dressed with lemongrass, lime, fried shallots and chilies procured from what we're certain is Satan's CSA. The dish's brightness was only outmatched by a brow-sweating heat. Plus you can order a textbook Aviation to wash it down. Bless you sir.
Later this year he will open a Vietnamese fish sauce wing stand on the Lower East Side — his friend Eddie Huang tipped him on to an opening at the former Baohaus space on Rivington St. And in 2012 he plans to open a full-throttle Pok Pok along the Columbia Street waterfront in Brooklyn. Ricker stopped by the Food Republic Test Kitchen to talk about the opening, and his new Chinatown digs.
So you're living in New York now, is that right?
Yeah I'm actually moving into a hovel in Chinatown.
What do you mean by hovel?
I'm used to living in Portland where there's big, wide open spaces, but I'm actually quite happy with what I've found. I've always wanted to live in Chinatown in New York.
It's got to be great for research. Have you found any interesting spots there?
I was walking down by Division Street, near the Manhattan Bridge, and there's a vendor there selling northern Chinese style lamb skewers for a buck a piece and I found that the other night which makes me very happy. And then there's a little dumpling spot right next to where I live.
Tell me where you are with both restaurant projects? Do you have any kind of timeline for when you're going to open either?
It's a little too early to say. We've broken ground on the LES project and we're working away on that and the Brooklyn spot — we haven't even cracked open the kettle yet on that one. I'm really nervous about putting opening dates on stuff because that's like putting a hex on the whole thing.
Why did you pick Columbia St. for your big opening?
I kind of fell in love with the Red Hook area and the vibe down there, but didn't find a space that was right. But by chance a broker told me about something he had listed a little further away. I took a look at it and it very much mimics what we do in Portland, with a huge backyard and a smaller inside. Fully equipped restaurant which was important to me because I don't have the time or the budget or the connects to do a massive build out, so it just makes more sense for me to start out with spot that's ready to go, more or less.
I was struck, when I visited Portland, that you have an eye not just for regional Thai cooking, but cocktails. Your mixology is on point. So are you going to get a liquor license for the Brooklyn location?
Yeah, we're going to get a liquor license at the Brooklyn spot. There was one in existence there, that's one of the great reasons why we wanted to go there.
I just read your very cool Times story, where you traveled through Northern Thailand. Are there any more travels planned to research the openings?
I'm supposed to be there right now actually. I'm supposed to be in Thailand finishing my cookbook, but there's all these projects here. Things are crazy right now.