Self-Serve Suds, Now On Tap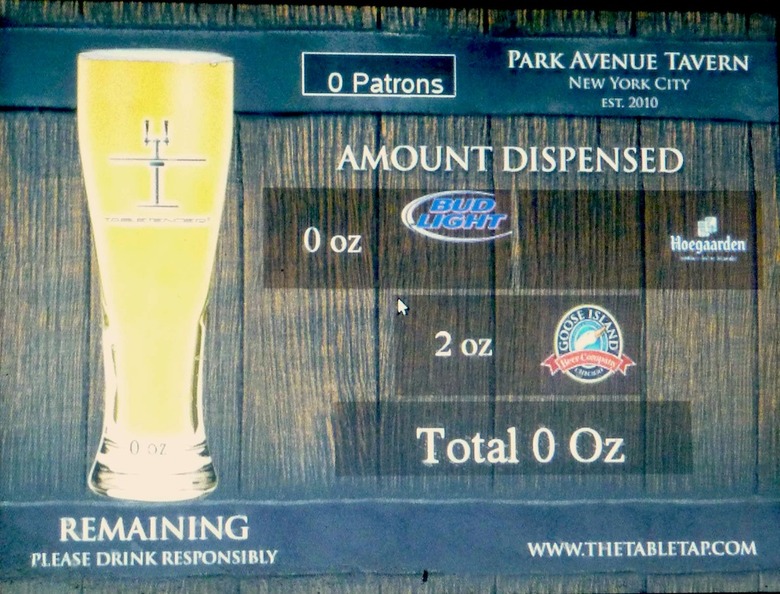 self serve beer table
Does your idea of heaven involve dining tables with self-serve beer taps built in? Admit it, it does. Head to happy hour (or any hour) in the basement of NYC midtown gastropub Park Avenue Tavern, where the Table Tender is your new drinking buddy. And it's the only place you'll find these liberated and unguarded kegs in all five boroughs.
The only drawbacks to this system, as far as co-owner Eugene Brennan is concerned, are first-timers pouring too much foam or getting confused when the system stops pouring. What are you going to do, slug a table and demand more?
Cost-effectiveness was a big factor in the Tavern's decision to implement self-service beer tables. Each ounce poured is measured, accounted for and billed directly to the customer. The only challenge there is deciding which three beers go at each of the three tap tables.
"Two of the taps at each table are split lines we share with the bar, so we try to keep that in mind when selecting the beers," says Brennan. "We rotate beers according to season, but always make sure a few of our most popular brews like Bud Light, Stella, Goose Island and Guinness are available year-round."
The third tap on each table is not shared with the bar, and given enough notice, the owners proudly state they can and will source any keg of beer in America for your party. Right now, the special guest at Table 1 is Mother's Milk Stout from the Hudson Valley in New York. At Table 3, Long Trail Hibernator.
The Tavern's beer-friendly fare like fried oysters, bacon mac 'n cheese and moules-frites fuels the thirst needed to get to the bottom of that giant glowing electronic lager glass. 128 ounces may not sound like a lot to you now, but just try dispensing that last 16 without toasting the table from whenst it came.
More Gadgets That Rock from Food Republic: