Open Season: Truffles!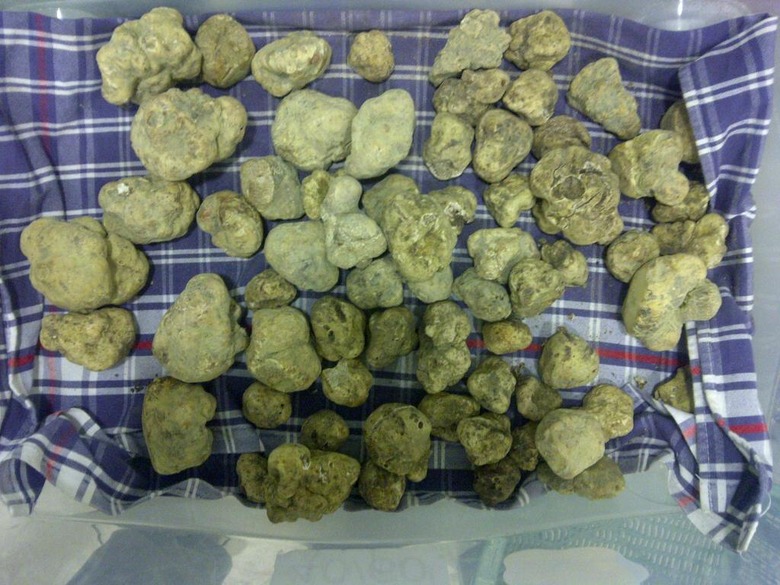 At 15 years old, Ian Purkayastha sourced his first crop of truffles from a vendor in Paris. Purkayastha, an avid mushroom hunter with entrepreneurial drive, decided he would cold call a few restaurants near his hometown of Fayetteville, Arkansas. Soon after, he began hocking his truffles to neighboring cities à la Willy Loman, dragging along with him his trusty scale, cooler and a notebook. Now at 19, he runs the American operations of P.A.Q. New York, a boutique truffle distributor, where he sells his wares to the likes of Thomas Keller, Michael White and John DeLucie.
This past summer, Purkayastha stayed on the company's Umbrian estate near Perugia—that infamous capital now known for the Amanda Knox trial. And like Italy's legal system, the truffle trade can be a convoluted labyrinth.
"So many hunters poach truffles that there is no way of policing the state," explains Purkayastha. "Even if you put up a fence, [the hunters] would find a way to poach them or they would pour gasoline over the areas to kill the crop." As a result, P.A.Q. essentially purchases their crop from foragers who have collected from their own 1,200 acres of forest. For these rare and wild edibles, hunters are well compensated, earning up to €50,000 (or $68,000 U.S.) in a single white truffle season.
But deception is not limited to the pillaging of these transcendental edibles.
"A lot of [wholesale] companies sell Chinese truffles as Périgord truffles," explains Purkayastha. While Chinese truffles have the same appearance, they have zero flavor and are practically worthless compared to the Périgord black truffle, which sells for $800 lb. (The inauthentic Chinese version sells for a mere $40.) According to Purkayastha, distributors in the U.S. knowingly mix the authentic truffles with imposters. And though the practice isn't new, chefs are often still duped.
"The issue is a lot of chefs don't know the difference. It's easier to fool them, and people in general, with this mixing game," says Purkayastha. When the identical truffles are kept in a closed container together for a few hours, the Chinese truffles will take on the aroma of the Périgords, thus making it nearly impossible for even the most trained chef to discern. By the time they wind up in the dining room, it's too late.
Unripe truffles are also often tainted with a chemical petroleum byproduct to mask their inadequacies. "Some companies will soak [unripe] truffles in a truffle aroma so that they are very pungent," explains Purkayastha. But in this case: the nose does not always know.
What about that ubiquitous truffle oil? According to Purkayastha, "Truffle oil is not made with any real truffles. There is no way to add truffles to oil and have the natural flavor without the oil going rancid." The truffle oils on the market employ that same chemical to create what many think is a natural flavoring. P.A.Q., however, has devised a way to capture that flavor through osmosis. "If you put truffles next to eggs, the truffles will penetrate the shell and the aroma will be inside the eggs." The company is currently selling an organic oil using this method.
For purists and those who get excited about the real deal, a $4,000 nearly-1-lb. white truffle (pictured, on scale) has just passed through U.S. Customs and is on its way to a Michelin-starred San Francisco chef. And you can rest assured—this is the real deal. Want to know more about true truffles? Purkayashta gives us the scoop.
3 Ways to Spot a True Truffle:
Round truffles are very rare. Most truffles are amorphous as they grow around obstructions which naturally warp their shape. But chefs will often seek out ones that are the least "imperfect."
Truffles should be firm, not soft. If they are soft, they are past their prime. Truffles have just a one-week shelf life.
Truffles should have a strong, pleasant aroma. White truffles have a light, cheesy, garlicky, aroma and black give off a nutty, hazelnut, and minty scent. As they age their odor becomes unpleasant.