How To Make Kimchi Gnocchi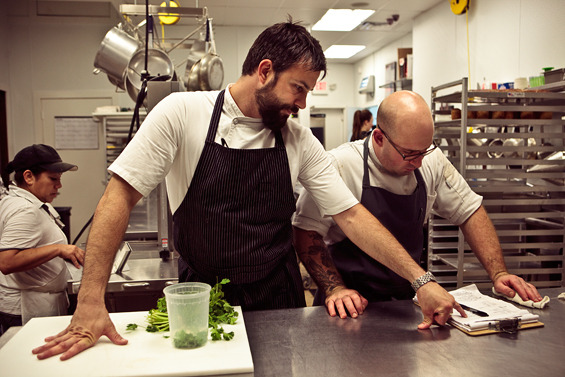 Welcome to the latest installment of the Food Republic serial, The Worst Idea Ever?, in which chefs Seth Siegel-Gardner and Terrence Gallivan set out to open a restaurant in Houston, Texas as Pilot Light Restaurant Group. This time around, they're inventing a tasty dish that you can try at home combining Korean and Italian flavors.
When attempting to develop new menu ideas we naturally pull from our broad spectrum of influences. Not only from the great chefs whom we have had the honor of working for but also from the different cuisines in which we enjoy.
Being that we both spent some time with Italian restaurants, its fair to say that we are fans of the cuisine. And while we have no problem sitting down to a big bowl of Bolognese and a big glass of Montepulciano d'Abruzzo, when putting a menu together we wanted a more subtle take on a classic Italian pasta.
Inspired by Korean rice cakes and their classic heat we decided to make an Italian gnocchi dish using dehydrated kimchi as a flavoring for the pasta. Employing potatoes helped retain that distinguishing lightness of gnocchi while the kimchi provided the spice.
Recipe:
1 large potato, (baked and passed through a ricer)
2/3 cup, minus one tablespoon, all-purpose flour
1/2 cup kimchi powder (dehydrated kimchi that has been blended into a powder)
2 egg yolks
1 teaspoon of salt
Directions:
1. Using your hands, mix together. Don't overwork the dough, just until it has a crumbly texture.
2. Divide into manageable sizes and roll into ropes.
3. Cut the ropes into into 1-inch pieces and, using either a gnocchi board or fork, create indentations in the dough that will catch the sauce or broth.
Read last week's installment of The Worst Idea Ever, Scary Halloween Kitchen Stories.