Big Weekend: Caribbean Food And Wine Fest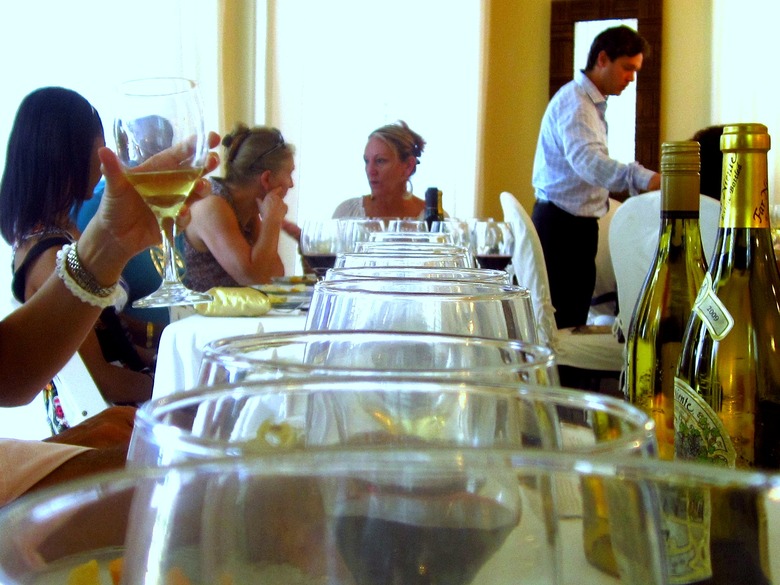 We may receive a commission on purchases made from links.
Turks and Caicos is an island nation—well, more a chain of islands—with around 45,000 full-time residents. The biggest draw is the pristine beaches, with white sand and postcard blue surf lining a small number of luxury resorts mostly located on the island of Providenciales. It's a quiet and remote place, built up in just the right places. You can go a week speaking with only six people, and maybe a couple of cats or geckos. Chill is an understatement. Plus, it's only a 3.5 hour direct flight from NYC and Philadelphia. Miami and Charlotte fly direct too.
Over the weekend some of the world's top food and wine professionals, and some lucky journalists (hand in the air), enjoyed a little bread and circus on Turks during the 1st Annual Caribbean Food and Wine Festival.
The two-day festival was organized by two of the country's most passionate culinary guys: Anthony Garland of Provo's main rum depot The Wine Cellar and Nikheel Advani, C.O.O. of Grace Bay Resorts—and an all-around rum geek. In speaking with the two over several glasses of wine (more on that below), it's clear their passion lies in uniting local culinary flavors with international expertise. Think local red snapper and lobster sauced with exotica like yuzu kochu and green tea jelly. Here are some highlights:
Welcome dinner hosted by Beau MacMillan
You may recognize Beau MacMillian from TV—he's appeared on Iron Chef America and hosted Worst Cooks in America with Anne Burrell on The Food Network. I, admittedly, had no idea who the guy was when I sat down to his kickoff tasting menu at Anacaona at the Grace Bay Club. His cooking spoke volumes: miso-glazed sea bass cooked to perfection with a fresh shitake snap pea salad and coconut foam.
The crowd cooed at foie gras crème brulee, topped with a creative black truffle meringue. As chef at Elements outside Scottsdale, MacMillian has established himself as one of the Southwest's most inventive kitchen talents and clear winner of the guy-you-would-want-to- hang-out-with award. (And we did hang for a fun interview to be published later this week.) The courses were paired with wine from Oregon's Duck Pond Cellar, with an assist in the kitchen from the Grace Bay Club's chef Wolfgang Van Wieser.
Before dinner, author and all around rad-person Divya Gugnani signed copies of her new book Sexy Women Eat—which is a sentiment we certainly get behind here at Food Republic.
Food & Wine Tasting Experience
After shaking off the wine head—credit to Scott Jenkins of Duck Pond for keeping the glasses filled with his wineries' Pinot Gris all night—I headed to the Veranda Resort for an afternoon of wine-food pairings and education. Master sommelier Geoff Kruth, who is also the Director of Operations of the country's top wine guide, lead a wine and cheese pairing workshop.
"Wine and cheese very often go terribly together," he admitted as he challenged us to match up high-alcohol and bitter Viogniers with a range of cheeses like smoked brie and salty goat. I hit the holy grail with a Far Niente Chardonnay and cheddar. Beau MacMillian returned to pair lamb loin smoked in hay and sous vide pork belly with a stellar Cabernet introduced by Napa Valley living legend Tuck Beckstoffer.
Gourmet Safari
For the past five years Turks and Caicos has hosted a Culinary Safari, which is exactly what it sounds like: getting a bunch of food-obsessed beachgoers on a bus to hit many of the island's restaurants. As a storm brewed in the distance, the guests hit the infinity pool area at the Grace Bay Club for passed appetizers (lobster wrapped in mango, tataki beef with soy pickled carrot) and Beckstoffer's Seven Five Wine Company Sauvignon Blanc. Beckstoffer would be pairing all the wines along the way.
The next stop was Coyaba, a garden restaurant opened by well-regarded Caribbean chef Paul Newman in 1999. He's considered by many the father of a style of new world fusion cooking in the region. His plate of ahi tuna was served with a bit of a parlor trick: a smoked infusion that was injected into the plate and covered with a martini glass. I liked the pistachio-crusted baby back ribs better.
After a short ride on the bus, we hit Seven Restaurant at the Seven Stars for halibut with a chorizo emulsion. Indeed, the porky blast did nice things with the fish, freshly caught in the Atlantic. But our biggest highlight of the stop was a caipirinha served with a red wine float—the bitterness of the rum and wine worked well with the tart lime and simple syrup. We were allowed to take that on the bus for the ultimate roadie.
The highlight of the safari was easily the stop at the super-luxe Regent Palms, where French-born chef Eric Vernice works magic at his bustling Parallel 23. An open kitchen gave us a peek into the chef's fusion style of cooking, blending Caribbean products with touches of India, Mexico and Morocco. He served a perfectly butchered and prepared New Zealand lamb rack with oven-roasted baby carrots and one hell of a surprise: a single hand-rolled ravioli stuffed with fragrant lamb shoulder. I was so blown away that I almost missed Mickey Rourke walk in. I think it was him at least. There was a lot of wine being consumed. And speaking of that, Beckstoffer served a super-rare 2007 Cabernet Sauvignon—100% Cab and restricted to only 24 cases.
The final stop was The Gansevoort. Which, like its other locations around the world, was more party than anything. A flourless chocolate cake was served, but I had more fun watching a wedding party conga line in the adjacent bar. And, of course, "I Got A Feeling" came on and everybody on the Safari started to dance as well–dangerously close to the infinity pool. Nobody fell in. I guess there wasn't that much wine on the trip, thankfully.
For more information about Grace Bay Club, visit their website.