On The Scene: IFPDA Print Fair Opening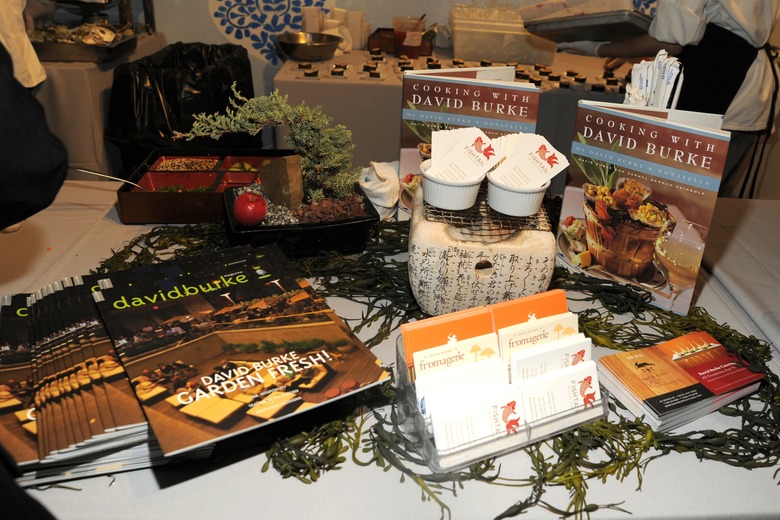 The best way to an art buyers' wallet may be through his stomach. At least that was the hope at the International Fine Print Dealers Association Print Fair, which opened at NYC's Park Avenue Armory Wednesday night with a VIP preview featuring food from several well-known Manhattan eateries. The fair, which runs through this Sunday Nov. 6, showcases galleries from around the world selling edition prints of art from many eras — you're as likely to find a Matisse as an up-and-coming artist from Brooklyn or London. And because these are prints and editions, they're usually much more affordable than what you find at hyped-up art fairs.
But before the fair kicked off, about 2,000 VIPs mingled over samples from Sam Talbot's Imperial No. 9, sushi hot-spot Niko — served up by Chef James London — David Burke's Fish Tail and two Spanish restaurants.
On the menu? See below:
Fishtail By David Burke:
Ahi tuna mini polki with ginger soy and seaweed salad
Spicy tuna roll with sweet chili sauce and crisp potato
Niko:
Tokyo Crispy Chicken: a boneless skinless chicken thigh marinated in a garlic soy mixture and dredged in potato starch and fried twice, served with butter ponzu and creamy spicy sauce
Txikito:
Stew of chickpeas and chorizo
Pan amb Tomaca: grated tomatoes and garlic on a rustic baguette
Barraca:
Paella Negra: Squid-ink rice with conch, clams, mussels, sepia and saffron lemon aioli (served in an oyster shell)
Imperial No. 9:
Blue Shrimp ceviche with crisp Berkshire pork belly
Fried shrimp heads with daikon kimchi