Tailgate Toe-To-Toe: Browns Vs. Texans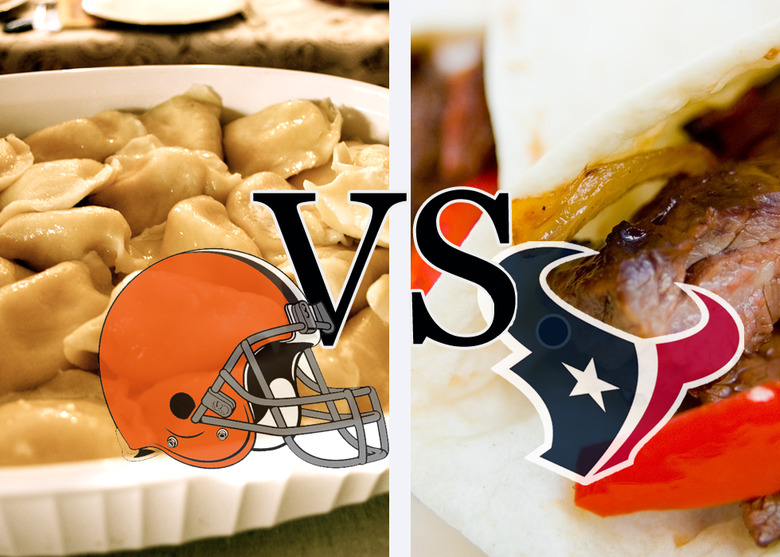 Browns vs. Texans
Tailgate Toe-To-Toe picks a weekly NFL game and analyzes the matchup—on the field and in the parking lot.
I'm sorry, Cleveland. I'm sorry for all of it. Sadly, LeBron took his talents to South Beach, Wesley Snipes and Charlie Sheen aren't real baseball players, and the Madden curse has taken hold of Peyton Hillis. To top it all off – your city is known for pierogis, which on the surface seems just dandy: boiled or baked dumplings stuffed with potato, meat, cheese or sauerkraut. The caveat is you're completely ripping off Poland in a Rob Dyrdek vs. Tosh.0 kind of way. It's a melting pot in action for sure. So the Polish population in The Cleve dictates the food of choice in this week's showdown.
The Browns Backers are a national organization with over 700 members across the country. However the inaugural Cleveland chapter took on the "Muni Lot" prefix to describe the locale of their pre-game party. Anchoring the 15-year-old group is the DUMDOG, a souped-up version of the Sheepdog-mobile Lloyd and Harry drove in Dumb and Dumber. Slightly more advanced, the DUMDOG has been "trained" (rather rigged) to lift its leg, via remote control, and piss on a Steelers-clad fire hydrant. Everyone needs to break the seal after going through the four kegs that the Muni Lot Brown Backers start the day with, and the props just add to the fanatic hubbub.
It's hard to not make this a lopsided contest. Houston's array of food, proving they do it bigger in Texas, is all good — from BBQ beef brisket to Tex-Mex fajitas — you try and find a flaw. What, is brisket too succulent for your under-developed taste buds? Are fajitas too awesome, especially when they bring them out in those still-smoking black skillets and the waitress reminds you: "Be careful, this is really hot"? For argument's sake, and keeping in mind that the Dallas Cowboys will have to be featured eventually, let's allow fajitas to represent Houston and say a prayer for the jewel of Ohio.
The Raging Bull Tailgaters have nothing to do with Robert De Niro. Their motto is simple and revolves around the 4 F's: Family, Friends, Football and Food. Perhaps food should be listed twice – in preparation for each tailgate, Glen "Sweet" Miller and company buy 400 lbs. of different meats, running a hefty tab of at least $2,000 a week on munchies alone. It's quantity and quality for these Texans fans. After all, being voted the 2009 HEB Tailgaters Of The Game takes some creativity on the grill – and the RBTs don't disappoint with creations like spicy grilled redfish fillets and shrimp-stuffed jalapeños. When you're this close to the border, you better be able to handle the heat.
The Browns dropped a game against the 49ers in week 8 despite another solid outing by second-year QB Colt McCoy. But as stated earlier, Hillis has been nagged with injuries and when second-string Montario Hardesty left the game with a torn calf, Cleveland's running game never got on the right foot – granted it was against the sixth-best run D in the league. The Dog Pound's secondary, led by Joe Haden, has been holding opponents to 171 passing yards a game and will need that number to hold up against...
The explosive Texans offense hopes to get Andre Johnson back this week after missing four games. They've gone a steady 2-2 without him – but his return makes Matt Schaub's passing game, and in turn Arian Foster's rushing attack, that much more potent. Houston is ranked 11th in passing yards (remember that's sans Andre for 4 games) and are in the top 6 in Rushing Yards, Opponent's Passing Yards and Opponent's Rushing Yards. Jonathan Joseph may prove to be the single best free agent signing of 2011 – and this is with all the hype surrounding what the Eagles did in the off season. With Peyton Manning sidelined indefinitely this is the year that Coach Kubiak can lead his team to winning the division – and they can't afford to drop a "should win" game against the Browns. GAME PICK: Texans 35, Browns 10
Any way you slice it, pierogi – as delicious as important they may be in the dumpling world – cannot stand up to Texas Food. That's why Top Chef didn't film in Cleveland for the upcoming season. Houston takes the T4 sweep. FOOD PICK: Fajitas 35, Pierogi 17
---