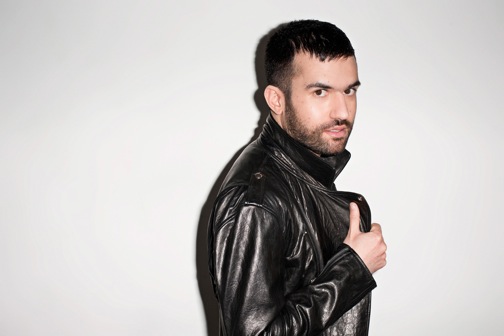 It's DJ Week at Food Republic, which means we are talking to some of our favorite clubland characters — but more about Serrano than Serato. And boy are they happy to tell us about their food adventures. It makes us jealous. DJ's live the life, and they eat very, very well.
Whether it's serving as Kanye West's touring DJ or producing catchy club jams with production partner Armand Van Helden, Alain Macklovitch (A-Trak to us) has had a pretty stellar career. Oh, wait, dude isn't even 30. Damn.
Born in Montreal speaking French, Macklovitch was raised in a household with deft culinary taste. His mother ("an amazing cook") made Moroccan salads and raised her family to respect mealtime. There was no dinner in front of the TV. These tenets of food have stuck with him, as we found out in a recent exchange.
In terms of food, what is your favorite city to visit while on tour?
I love going to Paris. I grew up speaking French so I have a certain kinship to the culture there and I just think it's a beautiful place. I have some very close friends there too. I usually stay at L'Hotel Amour and the restaurant there is one of the best in the city, in my opinion.
Favorite cooking shows on TV?
I don't watch TV but sometimes I see Guy Fieri's shows on the plane and I find his selection of shirts interesting.
What are three staples in your refrigerator?
Hummus, coconut water, fresh fruit.
Last meal you made at home was…
A sandwich? I can't cook.
What's the first food to hit your lips in the morning?
Toast with Nutella.
What are your food or drink requirements for shows?
Highlights include: hummus and pita, cashews, fruit platter, chocolate bars, beer, champagne, water. I did a gig tonight where they also gave me a gigantic turkey drumstick in my dressing room. I'm not sure where that came from. Looked like it came straight out of the Flintstones.
Do you have any pre-show food rituals or habits?
My main concern with a pre-show meal is to make sure it doesn't knock me out (or mess me up) before my set. I don't have a specific type of meal, I just try to keep it light and relatively safe. I can be an adventurous eater, but not before a gig. And you don't want to eat right before you go on.
Earliest cooking memory as a child?
I remember trying to bake a chocolate cake as a child and failing miserably. It never rose! I was always interested in cooking as a child though. I used to watch my mom in the kitchen a lot. She's an amazing cook and she used to think I would pick up on it because I'd ask a lot of questions. But then I discovered DJing at age 13 and gave up on any type of culinary ambition.
If you're eating after 3AM, you're likely eating…
A kebab or pizza.
What's your favorite music to cook to, or to have in the background while eating?
I rarely have music on during a meal. You know what I find really weird? When people have the TV on. I think mealtime is all about good conversation. If I do put on some music it has to be smooth like some Fleetwood Mac or maybe some Stevie Wonder.
Who parties harder: chefs or DJs?
I have never hung out with a chef. Are they closet party animals?
If you get hungry during a set, what kinds of food do you snack on that won't get the equipment all greasy?
I can't eat during a set—my style of DJing is too active, I'm always doing something. I guess I could snack on some celery or something.
---
More DJs on Food Republic: