A Marathon Man, In It For The Long Run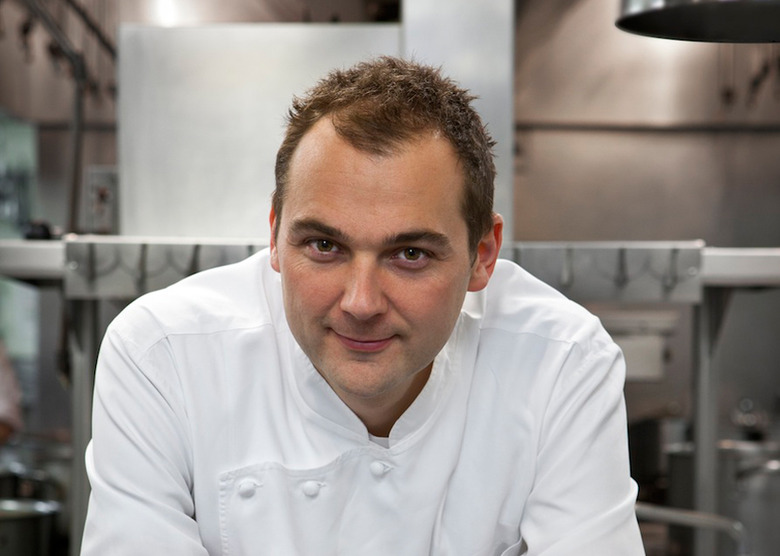 We may receive a commission on purchases made from links.
The ink is nearly dry on Daniel Humm's signature as the new owner of Eleven Madison Park—one of Manhattan's most renowned American Nouveau restaurants and, until now, the crown jewel of restaurateur Danny Meyer's empire. After working six years with general manager Will Guidara and under Meyer's tutelage, Humm has elevated EMP from a struggling brasserie—at odds with its grand Art Deco architecture—to its current status as a three-Michelin-star dining room competing with the likes of Per Se for New York City's most monied and meticulous restaurant fans.
In fact, in the past year alone, Humm led EMP from its bottom rung among S.Pellegrino's World's 50 Best Restaurants to #24 this April. In the intro to EMP's eponymous cookbook, a blindingly all-white bible due November 11, we learn how that previous #50 ranking galvanized the duo to focus their culinary point of view, push boundaries and ultimately blow the roof off of Eleven Madison Park. No, really, they literally removed a lower-ceilinged area of the dining room known as "the cave."
But if anyone expects Humm to slow down after the book release and deed transfer, they're sorely mistaken. He's already working on plans for his next restaurant project—and any free time is spent training for this weekend's ING New York City Marathon. Somehow, I suspect he'll have the new menu sorted after 26.2 miles.
I recently phoned Humm while he rode in the back of a cab for a rapid-fire conversation about the book, new beginnings, snowboarding. Plus, why you will never hear AC/DC blasting in his workstation. "The kitchen has its own music," he says.
Why a cookbook? Why now?
I've been at Eleven Madison Park for six years now and it's been really special. Restaurants always evolve and change. The people come and go. But I think it's a really important time for Eleven Madison Park and I wanted to capture it. In a restaurant, every day you have to do everything again, keeping it new and fresh. It's not like a building or a piece of art that's going to stay there for a long time. So a book in our industry does that a little, it captures a moment forever.
Do you really expect diners to actually cook from it or is it intended more for other chefs?
The recipes, although they are technical, are approachable. In the restaurant we use the metric system. But in the book, we wanted to use cups and tablespoons to make it more accessible. We also took a lot of the basic recipes and put them into the back: purées, oils, and butters. They're great, simple, small recipes that can be used by any home cook.
Yes, our dishes at the restaurant are complex and each one contains around 10 recipes. But that doesn't mean you have to use all of the components at once. You can prepare only certain elements and still feel you are making a great dish.
You honed your French-trained culinary chops in the Swiss Alps, earning your first Michelin star at age 25 and later winning the James Beard Award for Best Chef in New York City. And now you own Eleven Madison Park. What can possibly top this?
It's just the beginning. Now I'm the owner and have a whole different responsibility—all the people who work for me, I need to make sure they keep their jobs, that we're successful and making money. But I love the restaurant and we are opening another restaurant next year too. It will be great to give new opportunities to some of the people I work with. We have such a great team.
What is the new restaurant?
The other restaurant [NoMad—meaning North of Madison Square Park—located at 28th and Broadway] will have an à la carte menu. So it's less of a time commitment, less of a fine-dining experience. The menu isn't completely decided but there will be an open oven with really delicious roasted chicken and flat breads coming out of it. It will stay open a bit later at night and there will be a bigger focus on cocktails.
Is it true that you don't allow music in the kitchen?
Oh yeah. No music (laughs). Because the kitchen has its own music. I'm an athlete too and when I go running in nature, I want to hear the nature and my breathing and be really in tune with my body and my environment. With cooking it's the same thing: You're using your senses. To be able to hear the dish gives you a better sense of what's going on. So I think music would be distracting.
I also hear you're a hardcore snowboarder, traveling back to Arosa, Switzerland each year to ride. What's your best trick?
I'm not as good as I used to be. The last two years I haven't really had any time to go. I have two kids and a busy restaurant. You can't have everything I guess! But I still run. I'm going to run in the ING NYC Marathon November 6.
Are you shooting for any specific time?
I want to be fast but not super fast. Maybe, like, three hours would be nice. Fun fact: Last year Nate Appleman ran the ING NYC Marathon for the first time in 3:51; Bobby Flay finished last year in 4:01. Sounds like Humm may be the man to beat.
Speaking of your children, has your cooking changed since becoming a father?
Having kids makes you really question everything and where it comes from. You want only the best for your kids. So we go to the farmer's market and the organic farm stand. And it kind of translates to everything. Later, when we're in the restaurants, we ask, "Are we using the right stuff?" It really matters that what you eat is raised properly. It doesn't need to be lobster; it just needs to be right.