A Letter From The Cooking Room Program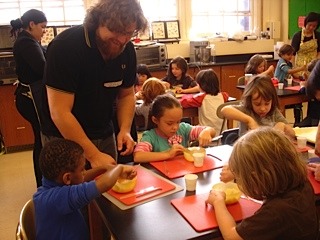 Zak
This week, Jori and I wanted to take a break from our standard format to post a letter from the Founders of the Cooking Room.
To All:
The Cooking Room is an elementary school program whose goal is to promote food literacy to kindergarten through 5th grade students.
The Cooking Room currently operates through a dedicated kitchen classroom at the Greenwich Village-based P.S. 3 in NYC. Here's a link to the backstory of P.S. 3 – click around the site for more information on our unique school.
The Cooking Room is where teachers, professional chefs and chef-instructors educate kids in grade-appropriate food-related lessons that incorporate state standards in science, math, reading and nutrition.
Through classes in The Cooking Room, children learn about food, cooking and taste, while bolstering academic core-standards through the practical application of those skills in a fun, stand-alone kitchen classroom.
The Cooking Room is the first of its kind – a hands-on kitchen classroom where public school kids learn how to work with fresh ingredients to prepare healthy "real" food as opposed to processed junk. And, they learn that "real" food/natural food can taste good!
We started our pilot program at P.S. 3 in Autumn 2010 and we are continuing to experiment and learn what works in teaching kids about food and what doesn't. Both last year and this, over 22 P.S. 3 teachers have signed up for time in The Cooking Room.
Cooking Room co-founder, chef/owner of Fatty Crab and Fatty 'Cue restaurants Zakary Pelaccio has been the guiding force and innovator of our program. Last year Zakary created and outlined Cooking Room lessons and during this past Summer, through the generosity of the International Culinary Center (formerly the French Culinary Institute), we were able to hire Julie Negrin, food education professional, with over 15 years experience teaching cooking to kids, to write an eight-lesson curriculum. Additionally, Ann Yonetani, a Professor of Food Studies and The New School, came on board to expand, fine-tune and fact check the curriculum (particularly the science aspects).
Last year, it was thrilling to help the kids cure anchovies (and eat them!), make tamarind soda with just pulp, seltzer and cane sugar; cut vegetables to prepare minestrone from scratch.
Just this week, the first week of November 2011, we rolled out our new curriculum with four classes agreeing to participate in the pilot of our eight-lesson curriculum. We had a guided vertical salt tasting (using six varieties of finish salts donated by The Meadow), and the children made their own Pommes Puree (mashed potatoes), enriching and seasoning to their own tastes.
Last March, through the work of our pro-bono lawyers at Orrick, Herrington, and Sutcliffe, we received our 501(c) (3) and have become an officially recognized non-profit corporation.
With each step we've taken, we've gotten enormous positive response: we've already had several articles and media hits, we participated in an IACP (International Association of Culinary Professionals)–sponsored panel discussion; we have hired an editor from "Martha Stewart's Everyday Food" to be our volunteer blogger and social media liaison; we have hired four volunteer cooking instructors to teach the eight-lesson curriculum; we have set up a system within our school to activate parent volunteers; and through our connections we're getting the word to Michelle Obama and the White House, hopefully to officially ally with the "Let's Move" initiative.
Our goal – to organically integrate food education into the curriculum standards of the school, and to serve as a model for other schools – is being realized. But we have a long way to go.
Currently The Cooking Room solicits ingredients for each lesson from the parents of the P.S. 3 students and additional ingredients and equipment are purchased out of pocket by us core group of Cooking Room founders.
Check out our website at www.thecookingroom.org and feel free to contact us if you are interested in helping/volunteering. You can also make a donation through the website, and any donation made to our non-profit is tax-deductible to the fullest extent of the law. Donations will go to purchasing ingredients and equipment for the classes.
And if you are in NYC and are eager to learn more, come to the fundraiser/cocktail party we are holding at Fatty 'Cue on Monday November 14 (invitation pictured at right; click to englarge).
Happy Eating!
---