Cuisinart Soup Maker And Blender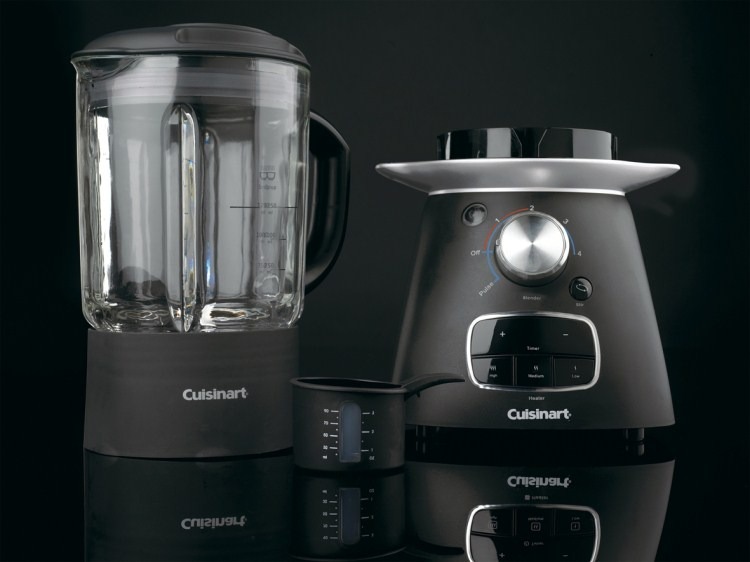 We may receive a commission on purchases made from links.
Whether you're a fan of bisque or borscht, French onion or oxtail, chowder or cock-a-leekie, there's no denying the soothing feeling of a warm bowl of soup. And now that autumn is in full swing, it's officially soup season.
Great soup, however, is an undertaking. You need time to chop, slice, sauté and stir—which occupies all your burners and leaves Burj Khalifa-sized stack of pots and pans in your sink at task's end.
The Cusinart Soup Maker and Blender looks to streamline the entire soup process. In addition to its stainless steel blades and four speeds, the 900-watt appliance features an embedded three-setting hot plate that lets you cook ingredients. Need to dice carrots, onions, and celery for minestrone? Toss pre-cut vegetables in the blender. Need to sauté them afterwards? Leave 'em in, add some oil, and turn the knob to low. Basically, you can cook an entire soup in the 48-ounce capacity unit (56 ounces if you're using it with cold items like smoothies or shakes) with minimal prep.
Positive (+)
The Soup Maker and Blender is as sleek an appliance as I've seen. With its glistening charcoal finish and easy-to-read bright red LED displays, it's like something out of the dashboard of a Bentley. But enough about aesthetics.
The first thing I made was a simple lentil soup. I placed oil in the blender, warmed it up, sautéed some onions, pulsed them a few times to cut them down to size, added some garlic and carrots to the sauté, and then my vegetable stock, lentils and all the rest of the ingredients. The blender lid houses a measuring cup, too. Clever.
The cooking process was simple thanks to the Soup Maker's built-in timer. I set it for 10 minutes for sautéing, 10 minutes for boiling and 30 minutes for regular cooking. The whole process was surprisingly simple – and the hot plate successfully sautéed my vegetables, cooked the lentils to a spoon-tender consistency, and kept the soup warm with its internal heater until I was ready to eat.
The blender worked well with creamy soups, too. My next venture, a tomato soup, was rich and textured without being too whipped (Since you're able to blend while cooking, you can fine-tune the consistency of your soup with more authority).
Negative (-)
This burly blender is a pain to clean, as its blades aren't removable. Navigating my fingers around the sharp metal to pick out pieces of lentil was a challenge.
Verdict
Usually, combination appliances miss the culinary mark. Those toasters that also cook eggs? Awful. Silicone bowls in which you can prepare food and then throw it in the oven to roast said food? A gimmick. But the Soup Maker is a shining example of a smart combination appliance. It's easy to use and exceptionally versatile, too. And I'm not talking simply making soups, smoothies and shakes.
There was a recipe in the back of the instruction booklet for mulled wine. By tossing in a bottle of red, some nutmeg, a few cinamon sticks and all other accoutrements, I had a hot glass of Christmas spirit. From. A. Blender. Use your imagination—this appliance, as all should, enables you to expand your culinary breadth. And saves post-meal cleaning, too. $99.99, amazon.com
---
More products tested on Food Republic: