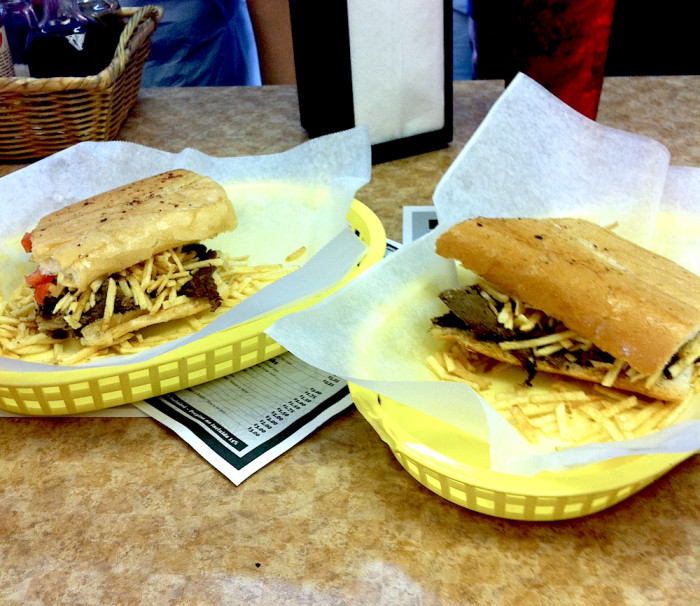 A quick drive through the Wynwood neighborhood of Miami will lead you to an inconspicuous ecru-colored building nestled on the corner of Northeast 29th St. and 2nd Avenue. Keep your eye peeled, as the building is easy to miss. Pull up to Enriqueta's Sandwich Shop, and you're suddenly no longer in sunny Miami, but in fact walking down the malecón in Havana with your tío Pepe who happens to be decked out in a linen guayabera.
Walk over to the open window (or step inside to hear old Cuban men arguing over dominoes at the bar) and order yourself a Pan con Bistec. At five bucks, the much-loved pressed steak sandwich won't set you back much. It's everything a sandwich should be: big, messy, filling and meaty. The freshly buttered Cuban bread is pressed in an old-school sandwich press and stuffed with lime-marinated steak, covered in tomatoes, then, are you ready for this? Piled high with shoestring fries. That's right, the fries are inside the sandwich. This way there won't be any multi-tasking involved. Every mouthful has the perfect ratio of crispy bread to crunchy fries, without having to stuff them into your mouth after every bite of sandwich.
Wash down your sandwich with a Cuban colada. But be forewarned, you may not get any shut-eye for days. The Bustelo dark roast combined with what feels like half a cup of sugar will give you a boost like no other cuppa joe you've come across.
With Art Basel around the corner, Enriqueta's is the perfect break for New Yorkers wondering where to find real Cuban food in Miami. Head over to this hole in the wall for the most authentic Pan con Bistec you will ever sink you teeth into. (Except maybe this one.)
While in town, also check out The 5 Best Burgers in South Florida or head over to Wynwood Kitchen and Bar for a refreshing artisanal cocktail (more on that soon!)
More Sandwiches of the Week from Food Republic: