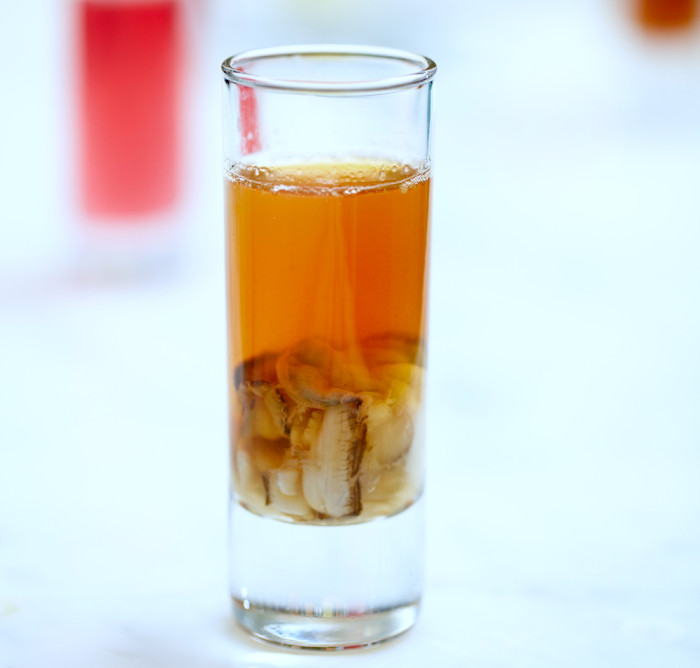 If you haven't heard about Chef Ben Pollinger's love for fish, allow me to inform you that it is all at once steamy, wild and raw. The Oceana chef rocked the bivalve at the 2011 New York Wine and Food Fest's Oyster Bash, and brings nose-to-tail to a whole new level with his Big Bass Dinner. The main feature of this multi-course feast is a massive 15-or-so-pound whole bass stuffed with spinach and olives, served up tableside by Pollinger.
Now that we're finally back in months that end in "r," (although we'll be damned if that kept us from slurping all summer long), it's time to shuck like our lives depend on it. A raw oyster is one of the few foods in this world which can arrive in the same glass as its pairing. We're not talking about traditional garnishes here, this is oysters infusing booze with their briny goodness while the booze infuses oysters with booze. If you find that weird, we have an article about cooking chicken breasts with your name on it.
First, clean and shuck your oysters — milder ones from the West Coast and Japan are better for shooters — and place them in the bottom of a tall shotglass. Then try any of Oceana's variations:
The Classic:
1 oz. fresh celery juice
3/4 oz. Belvedere Bloody Mary
1/2 oz. lemon juice
1/2 oz. simple syrup
lime zest and cracked pepper rim, garnished with celery leaves
Watermelon Margarita:
1 oz. fresh watermelon juice, or muddled chunks of watermelon
3/4 oz. tequila
1/4 oz. Cointreau
1/2 oz. lime juice
garnished with pickled watermelon rind
Bellini:
3/4 oz. white peach purée
1/4 oz. lemon juice
1/4 oz. Thai chili simple syrup
1/4 oz. white rum
Float of sparkling wine
Cucumber Mint:
1 oz. fresh juiced cucumber (or muddled cucumber)
muddled fresh mint
3/4 oz. vodka
1/2 oz. lime
1/2 oz. simple syrup
garnished with a cucumber twist
Break these out at your next cocktail or brunch party, and prepare to unleash some wrist-achingly delicious sip-gulps.
---
More on oysters from Food Republic: