Salmon Salad > Tuna Salad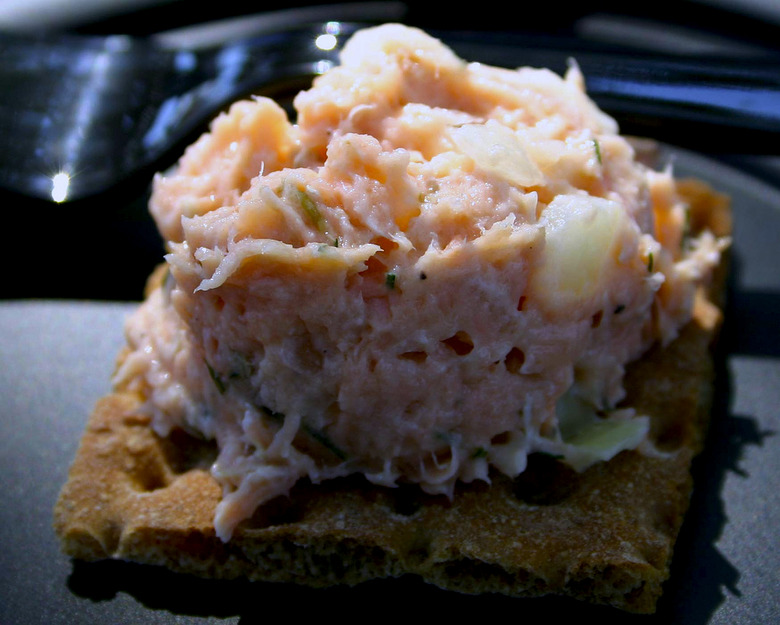 salmon salad
As I mentioned yesterday, Greek yogurt is not the be-all, end-all replacement for mayonnaise. There are some things mayo does to food that Greek yogurt could never dream of, like holding lobster together in a pure and wholesome way that needs no improvement. Upgrade to the homemade version and prepare to be astounded. But occasionally yogurt will best mayo in ways you'd least expect it. This column is about a different rivalry, however. The war of the fish salads: salmon vs. tuna. In mayo's corner, canned tuna. And in yogurt's corner, most other seafood. In particular, canned, or way better yet, leftover poached salmon.
The latter is a wonderful thing. Poached salmon flakes beautifully into linguine with a little heavy cream, some dill and lemon zest. It makes a really nice quiche with some brie and spinach. You could even sub out the chicken or turkey in a club sandwich for salmon and save yourself the $16 that would probably cost in a restaurant. But those are all relatively time-consuming options, what with the cooking of the bacon and baking of the quiche. Salmon salad takes about three minutes to make, five if you're really slow at chopping fresh herbs (try a mezzaluna).
Using a fork, simply mash your desired serving of leftover fillet in a small bowl with Greek yogurt to your desired consistency, add coarse salt, freshly ground pepper, a squeeze of lemon juice and your favorite chopped fresh herb (dill and salmon really are a match made in heaven). A fat slice of red onion adds some bite, and, following the traditional pairing of salmon and some sort of thick dairy, be it cream cheese, Greek yogurt or heavy cream, this stuff belongs on a bagel. Packed with protein (Greek yogurt brings about 18 grams per cup to the table) Omega-3's, calcium, probiotics and Vitamins A, B and D, salmon salad makes for an incredibly healthy and super-delicious lunch.