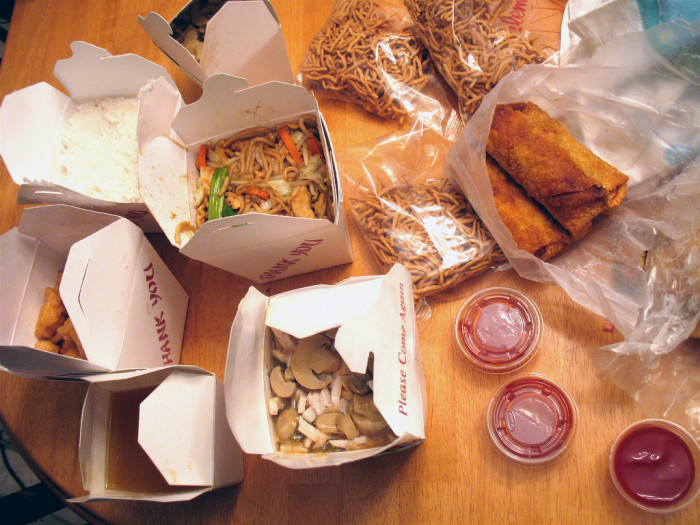 "Tomorrow! Tomorrow! I love ya' tomorrow! You're always a day away!" — Annie
I'm not a scientist. Never even played one on TV. I can't tell you what molecular miracles take place inside a refrigerator when Chinese food is left behind closed doors over night. It's been years since I found out the truth about the Tooth Fairy – still, I'm not ruling out magic as the explanation of why Chinese leftovers taste better than the day they are prepared.
11 PM on a Wednesday. Working late has ruled out a lot of dinner options and only a few places were still delivering. Bamboo Garden (216 3rd Ave.) had gotten enough positive feedback from various Internet reviews that it seemed to be a safe enough choice.
The order: Chicken lo mein (obviously), boneless spare ribs, string beans with garlic sauce.
Normally string beans aren't even on my radar. But the restaurant has dedicated an ENTIRE SECTION of their menu to the vegetable: sautéed string bean, beef or shrimp with string bean, house special string bean (no idea and not daring enough to try at the moment), roast pork or chicken with string bean…
That's a lot of love for the skinny green supporting player.
Unfortunately, when the plethora of little plastic delivery cartons arrived, the contents were lacking. There certainly was an abundance of boneless spare ribs, but no rice to go with them. The string beans in garlic sauce tasted like plain old sautéed string beans. And the lo mein – that was the greatest tragedy of all.
No flavor – almost like ramen noodles without the broth. On top of that, their light brown/bordering on yellow color was unappealing to say the least. Visually I couldn't detect it, but I could swear the flavor of celery overpowered a few bites. The chicken looked…questionable. Actually it might have been out of the same store-bought package of Cup O' Noodles as the lo mein itself. Oh yeah, and there were carrots.
Refrigerator to the rescue? It's not like I had lunch plans the following day – so it was time to put the leftover theses to a most challenging test.
The Next Day: Somehow the dish got greasier – in a good way. The crunchiness of wherever that celery essence was coming from became more palatable. Far from the best chicken lo mein in Manhattan, but easily 10 times better than the night before. Call me the Stephen Hawking of Chinese-entrée physics. Nonetheless, the search continues.
MY FORTUNE: Never fear shadows. They simply mean there's a light shining somewhere nearby.
---
More on the hunt for thes best chicken lo mein on Food Republic.