Tailgate Toe-To-Toe: Lions Vs. Broncos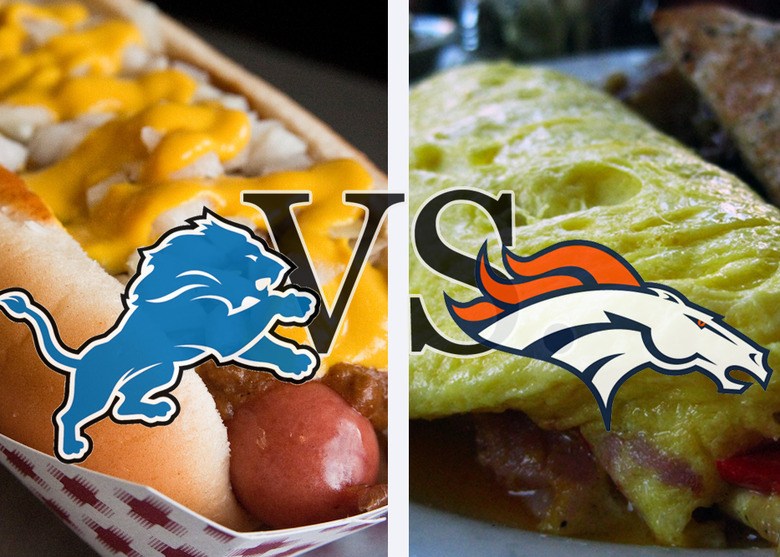 Lions vs. Broncos
Tailgate Toe-To-Toe picks a weekly NFL game and analyzes the matchup—on the field and in the parking lot.
Shock and awe. Those are the two words that best described my state-of-being when I first found out that Coney Dogs originated in Detroit. That's in Michigan – miles away from Coney Island, Brooklyn. What other lies have we been told, Swiss cheese? A Coney Dog is categorized as a beef frank with bean-less chili, chopped onions and mustard – the misleading moniker is only present as an homage to the birthplace of both the hot dog and Jesus Shuttlesworth.
The Suh Crew is a young organization — much like the inspiration for their name, Defensive Tackle Ndamukong Suh. The Lions' years spent in the basement of the NFL is the reason almost every non-NFC North fan is rooting for the team this season. Some would even call it sympathetic bandwagoning (a term I'll come back to.) Founders Dave and Sean credit a trip to Chicago — uh this game — as their first hit of tailgating high. The pomp and circumstance of the Windy City certainly inspired the SC to establish their own traditions: getting to the lot at 7:30 a.m. on the dot, a balanced breakfast of pancakes, French toast and sausage links and the two year ritual of "Thanksgating" come week 12. Any fanbase daring enough to have their own mascot, Brian The Lion, and deep fry bagel bites is okay in my book.
Let's push aside mountain oysters for a moment (OK, forever) and focus on the incredible edible egg. The Denver Omelet, hidden under pseudonyms in diners and fast food breakfast joints from coast to coast, contains ham, onions and green peppers. Ironically these are not Colorado's three main exports, but you can't fit snow and hippies into a skillet together. Get your frying pan set to Rocky Mountain High heat and get cooking (WARNING: It is not best to cook your eggs on high heat, but it worked with the pun.)
First off, hats off to Mile High Stadium, which offers a team-run tailgate in the Broncos Barn. Admission: $8. Two Chipotle tacos and a Bud Light: $6. Meeting the Broncos Cheerleaders While You're Getting Trashed Pre-Game: Priceless. If you prefer to run your own brew-ha-ha, Captain of the Tailgate's Mile High Report does all of your thinking for you by creating an in-depth tailgate menu for you to prepare. Week to week a sometimes-theme-oriented menu is offered with recipes and directions. Yes, we didn't need them to tell us that Miami's Latino flair should be exploited for culinary benefits, but then again I don't think I would have thought of Cuban-style sea bass.
Although Matthew Stafford's MRI came back clean, Detroit fans are holding their breath until they see their fragile QB take his place under center on Sunday. After all, how effective is Megatron going to be with Shaun Hill lobbing him the ball. The passing game has been a strength for the Lions, both offensively and defensively, putting up 260 yards a game and keeping their opponent to just over 200. Which doesn't bode well for...
Tim Tebow – a square-pegged athlete in a round-hole position. But since everyone went from being ga-ga over this guy in college to criticizing his every snap, I find myself rooting for #15 (hence the sympathetic bandwagoning). The Broncos gallop for 115 yards a game and that includes the yards tacked on by the mobile Gator alum. Unfortunately, Willis McGahee might have to take a few weeks off with a broken hand, which means good news for Knowshon Moreno fantasy owners, as he steps into the forefront of this run-heavy offense.
Tebow's still getting his well-above-sea-level-legs and the departure of pro-bowl receiver Brandon Lloyd will not speed up his development. In addition, Suh has to be hungry for some fresh meat, as his team has dropped two in a row and have now completely debunked his 16-0 pre-season promise. Lions get back on track in this one. GAME PICK: Lions 31, Broncos 13
Good eggs are enjoyable both in and out of the kitchen – and I simply cannot get over the deceptive Coney Dogs. FOOD PICK: Denver Omelet 24, Coney Dogs, 14
---
More tailgating on Food Republic