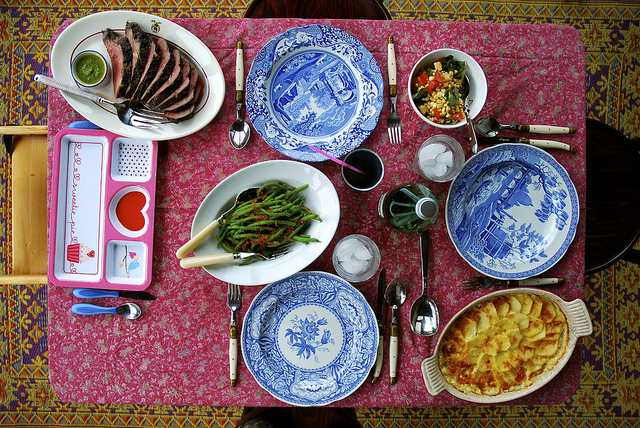 This story is reprinted from one of our new partner sites, Food52.
Early on in my food education, back in the days when I liked to cook caldrons of bad food, or a whole primal of smoked meat that could make a million tacos, and, in general, really heavy male-driven chunks of protein too big for a plate, I will always remember this idea I had of Midwestern food meets southwest France.
I will never forget the day, and neither will my wife Amy, that a big piece of all-day smoked pork roast came out of the smoker, was chunked and went into a simmering big black pot of prune stew.
The resulting yuck was not only one of the ugliest things I have ever seen — it could have won an ugly baby contest — but even after spitting out the first bite, the worst godawful taste lingered for hours, only to dissipate slowly well into the wee morning hours. No amount of tooth brushing, tongue scraping, or gargling was going to make the taste of a pork fat sandwich served in an ashtray (with pieces of pre-chewed Juicy Fruit gum stuck to the cigarette ash-laden sides) go away. It was like trying to kill mildew with water.
If everything has a low I would point to this crevasse as my culinary rock bottom. Never being one to let failure stand in my way, I brushed it aside, pulled my pants up, cinched my belt a little tighter and realized I had lots to learn and, might I add, I still am learning daily.
I am pretty sure I created the great pork fiasco about six months into my culinary education, you know, just about the time you say to yourself: "School, school, I don't need no stinking school, just get me out into the restaurant world because I know everything."
So I tucked my ego where my tail should go and realized you are only as good as your last meal. I needed to make a few decisions. I quit my day job and got a line cook job at one of the better restaurants in Indianapolis. It was an old school French jobber where they still did some dishes like Steak Diane, tableside, and classics like Chateaubriand. The restaurant had been around forever and the owner/chef was an Austrian man of Brobdingnagian girth with a deep voice that rumbled like an earthquake.
On a bad day he could make Gordon Ramsey look like a cuddly little French poodle. Chef was never wrong and when he bit, he bit hard and with purpose because he had a serious desire to make you a better chef — and besides, if he didn't like you, he was more likely to throw you out the back door by the belt than to waste his time teaching you. To this day I have immense respect for this chef. Even though his methods may be dated I can't help but be thankful for the education I got from him and the entire kitchen staff at this establishment. It was a great foundation to build on.
One of the main things I learned was how to plate. While the plating wasn't earth-shattering Alinea or French Laundry-style stuff, it was no less appetizing.
So it is exactly this word, appetizing, that I have carried with me through the years and, as I started to look at other chefs' plates in magazines and in their cookbooks.
I started to imitate plates I liked. You see, I had learned that it is about proportions and portion size and once you start getting this figured out you can start to make beautiful plates of food.
Mostly I was doing whole plates for two reasons: I was becoming a chef and that is how it was done in the books I liked. You put together a whole meal, not just a pork chop, and you paired it with sides that were complementary to everything on the plate.
So at the restaurant I learned to keep things tight and bring it to the center of the plate, but now in the books by the chefs I liked, I was beginning to stack things. Alfred Portale was the king of plating at the time and then came Thomas Keller. Everything I did platewise became a replica of something I had seen in The French Laundry Cookbook. I mean if you're gonna steal, steal from the best I always say.
Even so, as time passed things changed and I realized I just wasn't this fancy or fussy. I was more casual.
The day I opened Anne Willan's book The Country Cooking of France (pictured above — inside and out) something really hit home. It was atmosphere and branding. While I hate the word branding, because it has become meaningless, sort of like the generic pictures in a picture frame at Target — I mean they sell an image but it seems fake, made-up and fantasy-like. Willan's book didn't seem fake but instead came across as heartfelt and real.
I strive for heartfelt and real.
Tom's Tips for Plating Real Food
Make sure the food you are preparing is going to look appetizing. If it looks appetizing, people will want to eat it, which means they will also want to make it.
Think about garnishes. I know some of you hate garnishes and think they are pointless. Sure they are, if they aren't edible and don't enhance the plate with which they are being used, but they will take bland-looking food (doesn't mean bad), and perk it up with a little color. It is this color that will take an ordinary plate and make it spectacular.
Don't shortcut the food so it looks better on the plate. People want to be able to replicate your picture, so don't lie to them by making an false dish for a photo.
Have an idea of what you want, create an image for your food that you want to promote, and believe in that image. (I am actually waiting to see a real suburban home blog which I feel is real and not fantasy. I think it would be really cool.)
Not everything has to be on a plate. Think outside the box and consider your options. You may want to do some action-type shots, or ingredients, or on-sheet-tray-type stuff. I still consider this plating. Remember, you are building a style.
Use the freshest, blemish-free ingredients you can afford or find. It will make a difference in how your plates look.
I do farmhouse/ranch/world food so I do lots of family-style platters. It is one of the biggest changes I made in my style of plating.
If you want to use a table as a setting think about it in the same way you would any dish you are plating — the same rules apply.
Don't put mountains of food on a plate (or make sure the plate is big enough to hold mountains of food). A dessert plate isn't the best choice for a rib roast, or even a slab of rib roast. But it may be perfect for an amuse bouche of a rib roast-wrapped asparagus tip with horseradish sauce.
Plates with patterns rarely work in photographs. While I know and have seen it work, it is rare. (SippitySup does a great job of this.) Most of the time it is the tablecloth or some other color added in another way while the food stays on a white plate.
| | |
| --- | --- |
| | Food52 is the place where kitchens meet: a lively crowd-sourced and curated recipe hub founded by Amanda Hesser and Merrill Stubbs, and lots more. Together, we create cookbooks and apps, take on food projects, debate food news, help others with our real-time food Q&A — the Food52 Hotline — and band together to support local food producers. More about Food52 here. |