Ode To Savory Crepes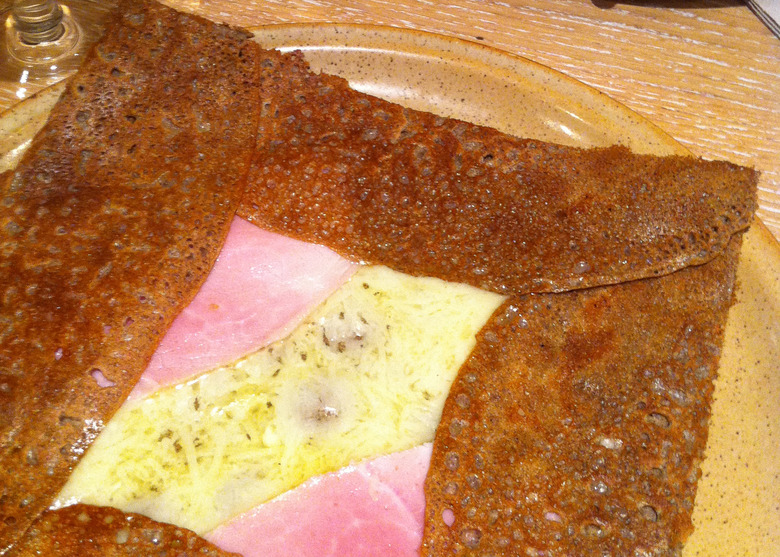 I have a startling obsession confession. Every single day I lived in Paris, without fail, I had a buckwheat crepe (also known as a galette) with ham and freshly-grated Gruyère, sprinkled with herbes de provence. It was the most amazingly delicious, most portable breakfast, lunch, snack, dinner, hangover cure and comfort food I could have ever imagined. And there was a great little stand around the corner from my apartment that sold them for about four bucks.
When I was helping my mom create the menu for her restaurant, I made sure we included the most authentic version of a French ham and cheese crepe possible. It was one of the most popular dishes on the menu (as was this savory crepe — yup, we had both), and I probably ate one every other day. Relapse, man. It'll getcha.
Maybe if crepes weren't so time-consuming to make — successfully make a light, airy batter, form a thin crepe in a pan, mess up three times and come out with one passable pancake — you'd see them on more menus. But you can roll any sandwich imaginable in a crepe, maybe even drizzle on an appropriate sauce, and have a sophisticated lunch sure to attract some looks. Unless there's an American slice in there, in which case you'll need a cheese update, too.
As far as extending breakfast into lunch, which I maintain cannot be called brunch on a weekday but is still actively encouraged, the savory crepe is the way to go. Simply add a runny fried egg to your creation and let nature's perfect sauce take your crepe to a new level. Stick to fillings that can easily be cut with a knife and fork (maybe pass on the Italian hero or you'll be sawing away in a decidedly unclassy manner) and you might as well be biking home from the beret factory with a baguette and a bunch of leafy greens poking out of your European man-satchel.
Making crepes is actually pretty easy with the right nonstick pan and one batch of batter to screw up before you get the hang of it. It's all in the wrist, from my experience, but you'll figure it out. Once you've mastered the art, the world of savory and sweet crepes is an open book. Just imagine the look on a date's face when, having just made a spectacular dinner, you announce that homemade crepes are for dessert, and do strawberries, Nutella and whipped cream sound good?