Not A Turkey Burger. Turkey's Wet Burger!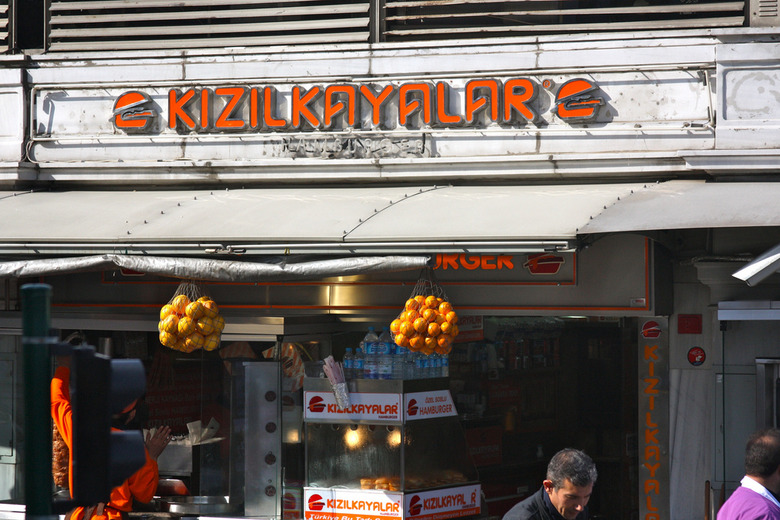 Come away with me on a culinary adventure to the shores of the Mediterranean, a land where East meets West, a city straddled between Europe and Asia. Some call it Istanbul, others Constantinople. We prefer Land of the Magnificent Wet Burger.
This is like no other burger you've ever seen. A more suitable description for the wet burger, or islak hamburger in Turkish, might be: fluffy patties from heaven, the best buck-fifty you'll ever spend or the drunk man's comrade.
This is not just a burger — we see it as more of a burger-meets-grilled-cheese scenario. The best part: after the burger is stuffed with mystery meat (definitely best left a mystery), it's doused in an oily, garlic-infused tomato sauce. Then, after some steaming, it hits a panini press, creating a wet, fluffy, edible oil bomb of radioactive orange goodness that is oozy and chewy in just the right spots. An instant hangover cure at its finest.
Sound too good to be true? All it takes is a quick flight to Istanbul's Taksim Square. From there, ask any man, woman or child to point you in the direction of Kizilkayalar, or just follow your nose, as the overpowering aroma of garlic will be hard to miss. Thankfully, it also diffuses to cover a large radius, so no matter what corner of the square you're on, you will find your way. As you approach the kiosk-like structure, you will spot a steaming, popcorn-esque machine stacked with the fluffy patties from heaven that you traveled so far to get your hands on.
We see Kizikayalar in the same light as that loving aunt that never gives up on you, no matter how belligerent or broke you get. They will always be there to give you a satisfying bite to eat, and get you out of whatever shenanigans you managed to entangle yourself in. But don't expect luxury here. With little to no seating, you're better off standing, as long as you can overcome the strong possibility of collapsing onto the ground into a drunken mess. All that is asked of you is to devour as many beefy (we think) burgers as you can. Trust us, once you get back stateside, the overwhelming craving will make you glad you binged on enough to keep you going until your next visit to Istanbul.
Siraselviler Caddesi 6, Beyoğlu
Taksim Meydanı
Istanbul, Turkey
---
More Burgers from Food Republic: