Nesco SnackMaster Express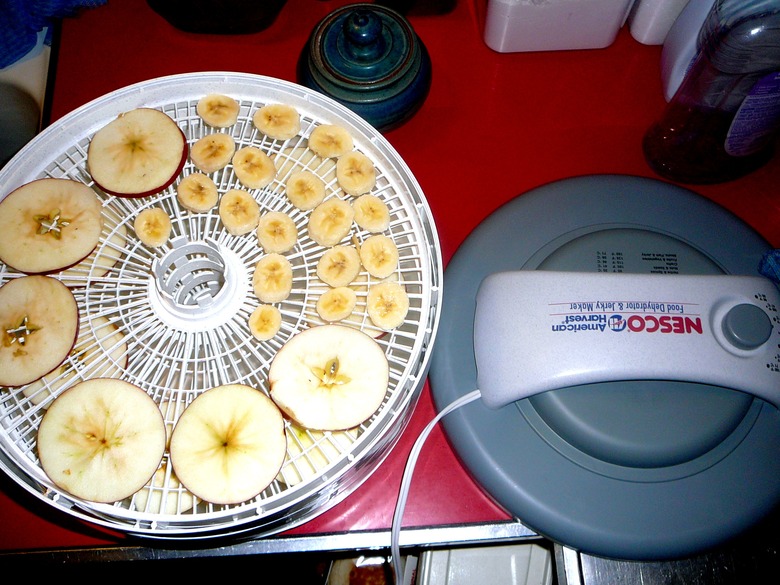 Nesco Snackmaster Express
We may receive a commission on purchases made from links.
It's hard to eat right. I mean, I do my part: I opt to eat fruits and vegetables when I can, rarely drink soda, and even try to shop for organics. But gnawing on carrot sticks at lunch and spending too much money on groceries at Whole Foods while playing try-not-to-punch-the-plaid-wearing-dude-who-makes-it-a-point-to-say-quinoa-properly-so-everyone-can-hear (yeah, I know it's pronounced "Keen-Wah" too, dick) gets old after a while.
That's why I like dehydrators. Mechanical ingenuity dries vegetables, fruits and meats—which not only makes them crunchy and more flavorful, but also preserves them without any of the sulfur, sugar and substantial price hike of store-bought varieties. Healthful fare need not suck! Not to mention, I can make jerky — the ultimate dude food for road trips and backcountry treks.
The problem with dehydrating, though, is that it's a long process that takes days to complete. The Nesco SnackMaster Express Food Dehydrator and Jerky Maker, however, claims to expedite the process, using its 500-watt motor to shrivel foodstuffs in nearly a quarter the time.
Positive (+)
All I needed to do was arrange my goods on the trays, stack them on top of one another, plug in the machine, flip the dial to the appropriate heat level, and wait. With four sizable food trays included, the Snackmaster easily held the pieces of four bananas, six apples and two apricots I dried during my first test — as well as the significant amount of beef and turkey I dried afterwards. Note: Never dry two contrasting foods, lest you like your beef banana-flavored.
The machine does crisp food quickly. It took only four hours for my fruit to shrivel, and about 10 hours for the meat, thanks to the top-mounted motor. And I didn't need to turn the trays during the process. The motor distributed even heat to all levels of the unit. Even the items on the last rack were as crispy as those on the top.
Negative (-)
The Snackmaster has neither an "on/off" button, nor a timer. As soon as you plug it in, the motor starts — something that shocked me. I like having the control of starting an appliance. Is that too much to ask?
Even though the machine quickens the process, drying foods is still a process that takes considerable time. I was bound to my apartment during the test for fear that I would forget to unplug the machine at the right time. A timer is a failsafe, too. Not to say that this machine would turn the meager contents of my apartment into a smoldering mess if left unattended, but it's still disconcerting.
The machine is a bit unstable too. Since it's nothing more than plastic trays stacked on top of one another, it wobbled with just a slight touch. I elbowed it accidentally as I reached for a knife and the entire thing nearly tipped over. And it's loud too, like a noisy air purifier.
Verdict
The SnackMaster Express dehydrates extraordinarily well and does so with very little fuss. It may not be the sturdiest machine, and the lack of significant control features might deter some, but it's fast and efficient. Plus, besides drying fruits, veggies and meats, you can also dry herbs for seasonings or flowers for, you know, decorative stuff. It also comes with a fruit tray for making your personal roll-ups. Sadly, said tray didn't come with the punch-out shapes of the General Mills variety. $65; amazon.com
---
More products tested on Food Republic: