A Very Expensive Dinner For Sale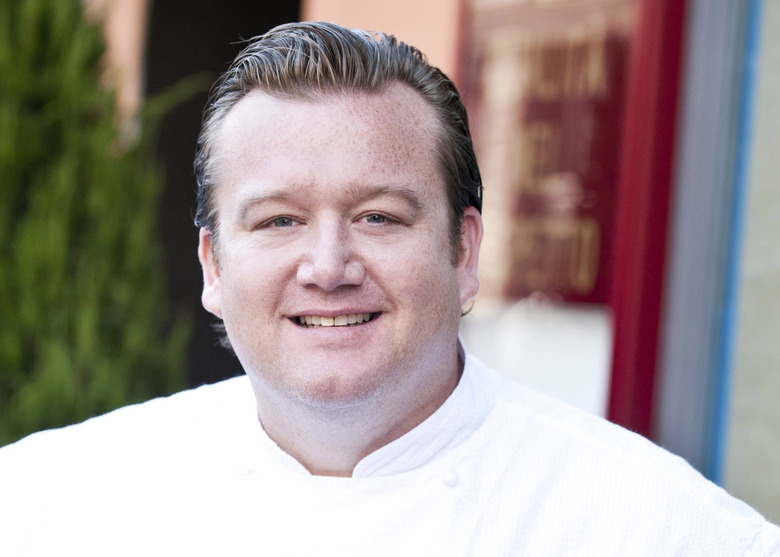 Chef Michael White
I thought it was impressive a few years back when a friend picked up a check for one of the best meals I've ever had in New York City. It was at Jean-Georges and the check for four people was – I couldn't help but steal a glance – $1,200.
Chicken feed, I know, for some of those who frequent Manhattan's finest restaurants.
If that's you, how does picking up a $106,000 check sound? The James Beard Foundation is having an auction as part of a fundraising gala November 2. The gala is called "Now that'sItalian!" and Mario Batali will be cooking with Marc Vetri, Michael White and Nancy Silverton at Guastavino's in New York. Tickets to the dinner start at $625 a person, but there's something being offered at the auction which may be a bit more dear.
The final item for auction is dinner for up to 40 people in New York City prepared by Batali and White at the James Beard House on a date convenient to all.
How much is it worth?
"He and I," White told me by phone today, "Did a dinner about three or four years ago for 15 people that went for $40,000. Do the math. It's worth it. We put quite a show on."
I did the math. That comes to $2,667.00 a person. Multiply that by 40 and the total is about $106,000. Now keep in mind that that includes wine.
White said that while he and Mario are both large-boned men, they will have no problem moving around together in the tight quarters of the Beard house kitchen. White wears Prada sneakers when he cooks and dress shoes with non-skid soles when he's out — he has them custom made in Hong Kong. Batali, of course, wears orange clogs.
"He's lost a bunch of weight and so have I," White said. "He and I are probably the nimblest cooks in NYC who cook Italian food. Although I'm a couple years younger than he is, he's pretty fast."
Finding a date to do the dinner won't be a problem. "I'm pretty busy, and he's a lot busier than I am," White said. But he's done with The Chew by 10:30 a.m. Don't kid yourself."
So who is White hoping will spend the $100k – or more? "It would be awesome if it was someone who likes to have a really, really good time and let loose a bit."